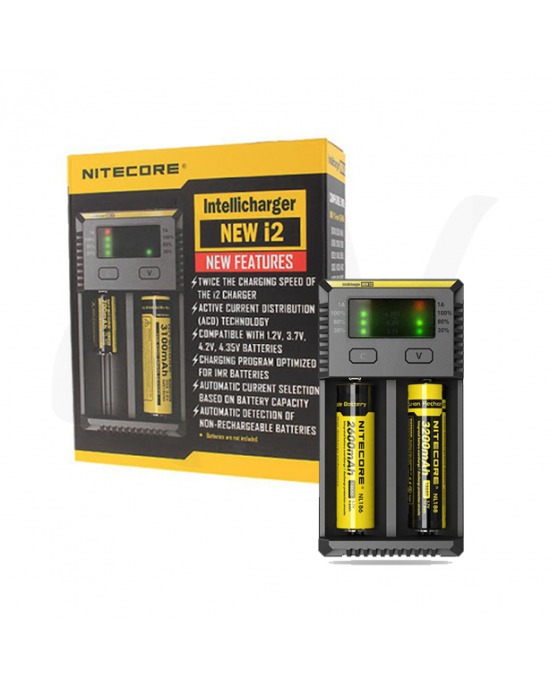 Secured Shopping
Best security features

Viva wallet
Secure Card Payments
Nitecore New i2 IntelliCharger

Nitecore
Intellicharger Nitecore New i2 (2020), an upgraded edition of the i2 eu/ i2, is a charger with compatibility, efficiency and intelligence.

It works with almost all types of rechargeable batteries, including 1.2V, 3.7V, 4.2V, 4.35V batteries, thus eliminating the need to own several chargers.


The NEW i2 is able to charge the batteries twice as fast as the i2 (Max up to 1A).


With the Active Current Distribution (ACD) Technology.


The NEW i2 automatically identifies battery types and capacity, and applies an appropriate charging current based on automatic detection or manual setting.

It can even restore your depleted IMR battery. With automatic detection of non-rechargeable batteries, safety is not a problem on the NEW i2.


Additionally, yellow and red power/ charging status indicator lights could visibly indicate battery status and charging process.


The Nitecore NEW i2: it's as simple as insert, detect and charge.


Features:

o 3 Colour LED displays charging progress for each battery


o Twice the charging speed of the i2/i2 EU charger


o Active Current Distribution (ACD) Technology

o Compatible with 1.2V, 3.7V, 4.2V, 4.35V batteries

o Charging program optimized for IMR batteries


o Automatic current selection based on battery capacity


o Automatic detection of non-rechargeable batteries


o Capable of charging two batteries


o Two charging slots charge and control independently


o Automatically detects battery power status and displays charging progress


o Automatically stops charging upon charging completion


o Reverse polarity protection and short circuit prevention


o Over-discharged battery activation


o Overtime charging protection


o Designed for optimal heat dissipation


o Made from fire resistant, flame retardant PC material


o Certified by RoHS, CE, FCC and CEC


Model:

Nitecore IntelliCharger New i2


Batteries Supported:

Li-ion/IMR/LifePO4 10340, 10350, 10440, 10500, 12340, 12500, 12650


13450, 13500, 13650, 14350, 14430, 14500, 14650


16500, 16340(RCR123), 16650, 17350, 17500, 17650, 17670

18350, 18490, 18500, 18700

20700, 21700, 22500, 22650, 25500, 26500, 26650


Ni-MH(Ni-CD) - AA -AAA - C

Output:

4.35V +/- 1%

4.2V +/- 1%


3.7V +/- 1%


1.48V +/- 1%


0.5A * 2 Slots

1A * 1 Slot


Input:

110-240v AC 50/60hz


0.25mA (MAX) 8W


DC 9-12V with Optional Car Adapter 8W


Indoor Use only


CE Safety Approved

Contains:

1x Nitecore New i2 Charger 2018 Model

1x UK Plug

WARNING:

This is an advanced Item. Please use at your own risk and always use proper precautions and handling.


Images are for illustration purposes only. Actual colour, finish and packaging may vary.


Please do not leave batteries charging overnight or unattended.


Important Information


Please read the instructions on the user guide provided in the kit before use to avoid improper operation.