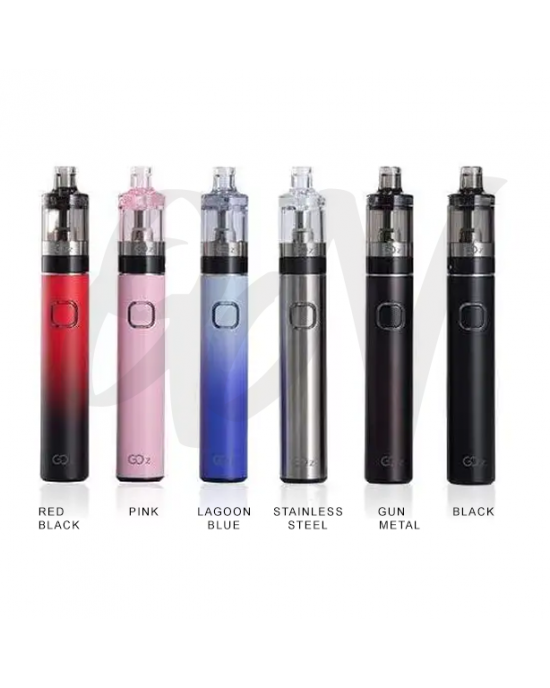 New
Secured Shopping
Best security features

Viva wallet
Secure Card Payments
Innokin Go Z kit builds on over a decade creating the best starter kits money can buy - offering amazing performance at a price that won't break the bank.
Featuring a 1500mAh battery that will last most users all day and a newly designed tank that simply slides open to fill, the Innokin Go Z is definitely our go-to starter kit.
What's more, the Go Z kit uses the brilliant Z Series coils - meaning whether you use Universal Haven, Classic Haven or Salt Nic e-liquids, there is a coil for you. And even better - the Go Z will automatically adjust to the correct output depending on which Z Series coil you are using.

With an average puff count of 500 between charges, easy to fill tank and simple to use performance, the Innokin Go Z should definitely be on your shortlist if you want to go smoke-free.

Which e-liquid to use ? - This depends on the coil you're using - we like the 0.8Ω with Triton or IVG Nic Salt range

What's in the box?
1x Innokin Go Z battery
1x Innokin Go Z Tank with pre-installed Z-Series 1.6Ω coil
1x USB Charging Cable
N.B The Go Z is compatible with the 0.8Ω, 1.2Ω and 1.6Ω Z Series coils.

Warning
Battery Safety
Use special caution when working with all Li-ion cells (Batteries), they are very sensitive to charging characteristics and may explode or burn if mishandled.Make sure the you have knowledge of Li-Ion rechargeable batteries in charging, discharging and assembly before use.Always charge in/ on a fire-proof surface.Never leave batteries charging unattended or overnight.Do not charge on carpets, couches, near curtains or other flammable items.Please be sure to use the correct specification charger with the correct device/ battery. Failure to use the correct specification charger could result in damaging the battery and/or explosion or fire.Just because a battery can be screwed into a certain type of charger does NOT necessarily mean it is the correct charger for the device!Never continue to use an e-cigarette if you can feel the battery get hot. If your battery gets hot to the touch, or if it begins smelling: DO NOT USE IT ANYMORE. Let it cool down (1 hour) in a safe environment (outside preferably), and dispose of correctly, or make arrangements to return, if still under warranty.If your e-cigarette or device begins activating itself, immediately remove your atomiser and disconnect the battery. Do NOT trust the battery, nor the atomiser anymore from this point on. This means never leave either of the components connected in your pocket, in your nightstand, or out of visibility where you can not immediately separate the two components.Queen Of Vapes are not responsible for damage if there is any modification of the batteries/chargers in any form or shape (including pack making). We are not responsible for any damage caused by misuse or mishandling of Li-Ion batteries and chargers. We will not be held responsible or liable for any injury, damage, or defect, permanent or temporary that may be caused by the use of any batteries.