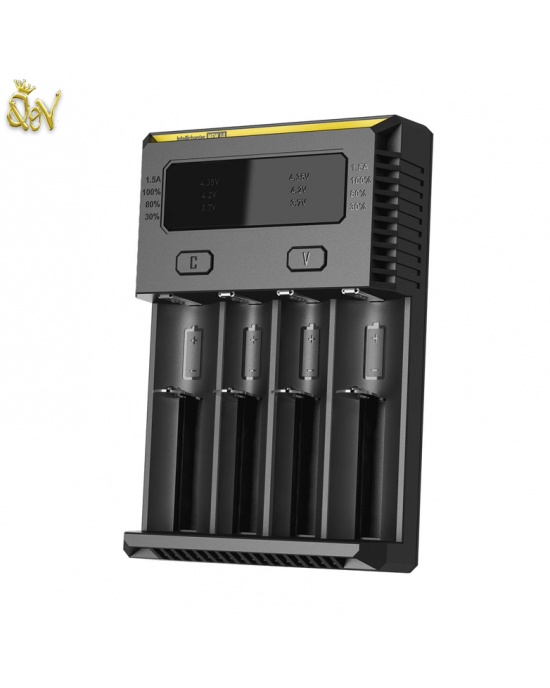 Out Of Stock
Secured Shopping
Best security features

Viva wallet
Secure Card Payments
Nitecore digi i4 Intelligent Charger

Nitecore
Nitecore New i4 Universal Smart Battery Charger is equipped with the advanced ACD technology, this will ensure each battery slot is charging for the appropriate charging time, allowing no room for over charging.
The updated charging function of the smart battery charger will now charge batteries at a faster rate than previous models.


100% Charging Acceleration


The New i4 can charge at up to 1500mA in one slot, 100% faster more than that on an i4 charger.


Active Current Distribution Technology


Enables the NEW i4 to identifying a fully charged battery and divert all its outputting power to the next charging slot.


Expanded Compatibility to Support 3.7V and 4.35V Batteries


The New i4 is compatible with 1.2V, 3.7V, 4.2V and 4.35V batteries, which means that you can charge almost all kinds of cylinder batteries without buying extra chargers. By simple operation with the V button you can easily set charging voltage in each slot independently.


Non-rechargeable Battery Detection


The NITECORE New i4 automatically detects the non-rechargeable batteries and it will automatically report errors with four LEDs when non-rechargeable batteries are inserted.


IMR Battery Recovery


You can press and hold the C button and the V button to initiate the IMR battery recovery to restore a 0V depleted IMR battery.


Optimal -dV/dt Charging for Ni-MH/ Ni-Cd Batteries


-dV/dt charging program for Ni-MH/ Ni-Cd batteries detects battery status and control perfect timing for charging termination.


Charging Program Optimized for IMR Batteries


Incorporates an optimized IMR charging system that is able to monitor the entire charging process, ensuring end voltage is always within the safe limits and extend the battery life.


Reverse Polarity Protection


The NEW i4 will immediately stop charging and notify you with four LEDs on when a battery is installed backward.


Over-charging Protection



When the charging duration reaches 20 hours, the New i4 will automatically stop charging and display a fully charged status in order to prevent possible overheat or even explosion due to battery quality issue.
Specification
| | |
| --- | --- |
| Brand | NITECORE |
| Model | New i4 |
| Input | AC 100~240V 50/60Hz 0.25A(max) 10W, DC 9~12V 1A |
| Output | 4.35V±1%/4.2V±1%/ 3.7V±1%/1.48V±1%, 1.5A x 1 / 0.75A x 2 / 0.5A x 2 / 0.375A x 4 |
| Compatible Li-ion/IMR/LiFePO4 Models | 10340, 10350, 10440, 10500, 12340, 12500, 12650, 13450, 13500, 13650, 14350, 14430, 14500, 14650, 16500, 16340(RCR123), 16650, 17350, 17500, 17650, 17670, 18350, 18490, 18500,18650, 18700, 20700, 21700, 22500, 22650, 25500, 26500, 26650 |
| Compatible Ni-MH(NiCd) Models | AA, AAA, AAAA, C, D |
| Product Size | 140 x 94.8 x 37 mm |
| Product Weight | 202g (battery and cable are not included) |
| Package Contents | 1 x NITECORE New i4 Battery Charger, 1 x Power Cable, 1 x Manual |