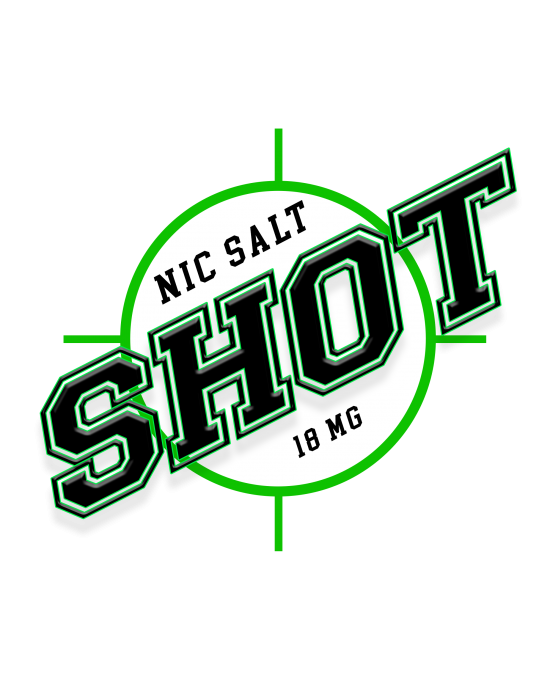 Hot
Secured Shopping
Best security features

Viva wallet
Secure Card Payments
Nic Shot Salt
Its A Winner!
Quality Vaping Products At Winning Prices
Price in reward points: 2
Not to be vaped neat! Unflavoured 18mg strength nic shot to be added to your shortfill e-liquid. Brand and bottle will vary, it's a surprise every time!

Nic Shot Rule of Thumb:
1 Shot in a 50ml shortfill makes a 3mg e-liquid

2 Shots in a 50ml shortfill makes a 6 mg e-liquid
1 Shot in a 100ml short fill makes a 1.5mg e-liquid
2 shots in a 100ml short fill makes a 3mg e-liquid
4 shots in a 100ml shortfill makes a 6mg e-liquid
Most short fills will not allow space to make a stronger mixture- for that you would have to buy a larger bottle bottle and mix separately- but a stronger mixture than a 6mg would result in a diluted flavour because the nicotine shot has no flavour.
What nicotine strength should I choose?
Everyone is different and it depends what e-cigarette you use. Generally, the more vapour your mod produces, the less nicotine you will need. Most sub ohm users (think: clouds) will vape 3mg strength and be happy. People using vape pens and mouth to lung devices like our aspire pockex may need to increase this to a 6mg or higher to get the satisfaction they need. If you are new to vaping try out some 10ml premixed juices to get an idea for what strength suits you and your vape best, they go all the way up to 20mg.


Flavour:

0 (Zero) No Flavouring
Mix:

50pg / 50vg

Strength:

18mg
Size:

10ml
Bottle:

LDPE
Origin:

UK
Tested:

TRPD


INGREDIENTS:

Vegetable Glycerin, Propylene Glycol, Nicotine








You must be eighteen (18) years of age, to purchase any products from Queen Of Vapes eCig Shop

WARNING: NICOTINE IS A POISON. NICOTINE IS HARMFUL. KEEP OUT OF REACH FROM CHILDREN AND LOCKED AWAY IN A SAFE PLACE. IF ANY NICOTINE PRODUCT IS CONSUMED, SEEK MEDICAL ASSISTANCE IMMEDIATELY.