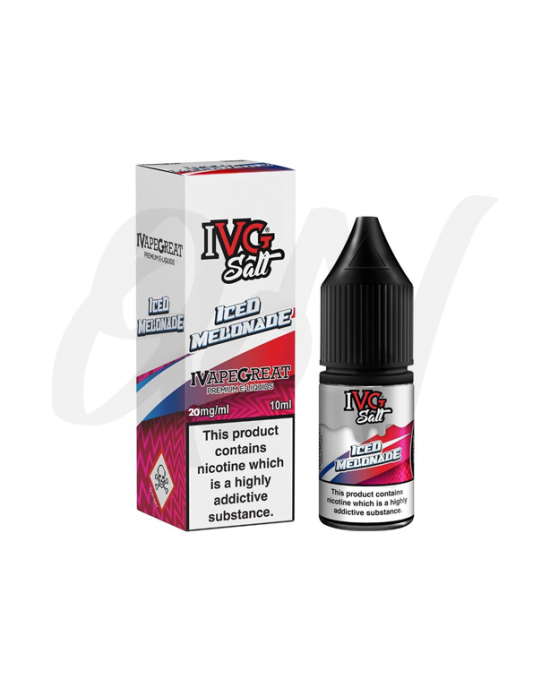 Multi Buy -10 %
Secured Shopping
Best security features

Viva wallet
Secure Card Payments
IVG Salt - Iced Melonade 20mg

I VG Salts
IVG are a British based e-liquid manufacturer who are regarded as one of the most recognisable brands across the world. Since their establishment back in 2016, IVG have risen in popularity across the globe due to their instantly recognisable fruity flavours.
Now being stocked in 60 countries, IVG are incredibly popular and currently boast a variety of ranges in their arsenal including an IVG Salts range. IVG Salts feature a variety of the company's most popular flavours that use nicotine salts instead of freebase nicotine.
Nicotine salts are used to provide the user with a stronger amount of nicotine without the harsh throat hit whilst enjoying a smooth vaping experience. This can be incredibly useful for anyone who has just quit smoking or for someone who is looking to replicate the smoking experience provided by traditional cigarettes.
In the IVG Salts range, you will find a variety of different flavours including their most popular juices. Some of the most notable flavours in this range include IVG's iconic Rainbow Blast, Bubblegum Millions, Summer Blaze and Kiwi Lemon Cool.
If you're looking to vape e-liquid with a stronger nicotine content yet you want to retain a smooth throat hit, then we highly recommend that you try the IVG Salts range. This array of e-liquid features a number of sensational fruity, fizzy and sweet flavours and is a must try for anyone who has a sweet tooth!
Flavour Range : Iced Melonade - Discover the unmatchable taste of succulent melonade accompanied by delicious crushed ice on exhale. IVG's Iced Melonade is one of the standout flavours in their 'Crushed' range and features a mouth-watering blend of melon, sweet lemonade and refreshing ice.

Strength-20mg

BRAND: IVG Salt

Available in 10mL

A choice of Nicotine Content

50pg/50vg (for more info on the mix please see our VG vs PG information page.

TPD Compliant

Made In: Uk

You must be eighteen (18) years of age, to purchase any products from Queen Of Vapes

WARNING: NICOTINE IS A POISON. NICOTINE IS HARMFUL. KEEP OUT OF REACH FROM CHILDREN AND LOCKED AWAY IN A SAFE PLACE. IF ANY NICOTINE PRODUCT IS CONSUMED, SEEK MEDICAL ASSISTANCE IMMEDIATELY.