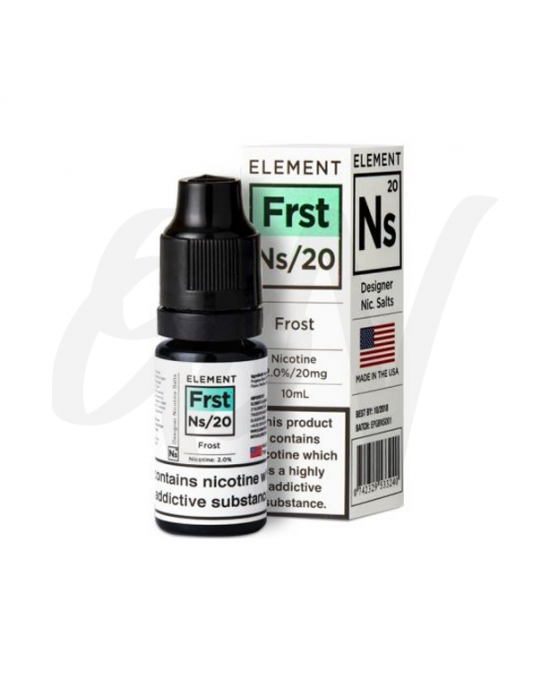 New
Secured Shopping
Best security features

Viva wallet
Secure Card Payments
Element Salt - Frost

Element eliquid
Element Nicotine Salts (NS) combine Element's e-liquid flavours with nicotine salts, which are the natural form of nicotine found in the tobacco leaf. Nicotine salts are ideal for vapers who prefer a smoother throat hit, and some vapers find they deliver a faster nicotine hit which is more satisfying than regular nicotine.
Element has been manufacturing quality e-liquids since 2014 and have gained a name for fine flavours and consistent quality.

Element Nicotine Salts come in a 10ml bottle with a childproof cap and come with a choice of nicotine strengths. These e-liquids come with a VG:PG ratio of 65:35, which mean they provide an even smoother vape, more vapour and can be used with lower resistance coils and with higher wattages than other nicotine salts.

Flavour Range : Vinberry- Vinberry Soda is a fruit medley of grapes, rasberries and blackcurrants
Strength-20mg

BRAND: Element

Available in 10mL

A choice of Nicotine Content

35pg/65vg (for more info on the mix please see our VG vs PG information page.

TPD Compliant

Made In:Uk

You must be eighteen (18) years of age, to purchase any products from Queen Of Vapes

WARNING: NICOTINE IS A POISON. NICOTINE IS HARMFUL. KEEP OUT OF REACH FROM CHILDREN AND LOCKED AWAY IN A SAFE PLACE. IF ANY NICOTINE PRODUCT IS CONSUMED, SEEK MEDICAL ASSISTANCE IMMEDIATELY.