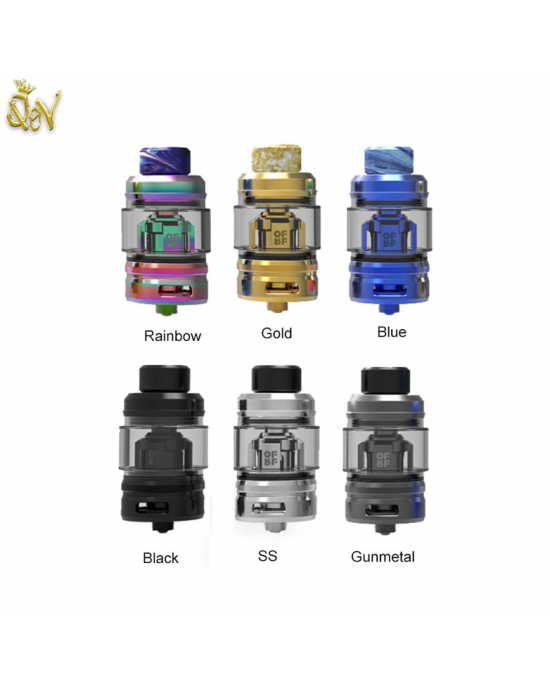 Secured Shopping
Best security features

Viva wallet
Secure Card Payments
OFRF NEXMESH SUB OHM TANK
Price in reward points: 54

OFRF
OFRF's triple density nexMESH technology our new Conical Mesh Sub Ohm Tank is set to bust the world of enhanced flavor right open.
With the vaping world awash with amazing flavors and new ones being developed every day, we here at OFRF set out to develop a device that does justice to all these marvelous juices by providing the vehicle to drive the flavors of these juices to their absolute limit.
To understand what makes the OFRF nexMESH Sub Ohm Tank so different let's first explore the science behind the design.
Powered by OFRF's nexMESH coil technology, our conical mesh delivers lightning fast ramp up speed.
nexMESH has an innovate triple density mesh structure which creates a larger surface area for e liquid to touch the mesh. This increased surface area results in lightning fast heating as the increased density and small hole size allow the mesh coil to ramp up so much quicker.
However fast ramp up speed is only one part of the amazing flavor equation.
As you vape the unique conical structure of the coil maximizes bottom of the coil airflow intake. This combined with bottom up coil heating forces upward compression, condensing the vapor as it flows through the coil resulting in an unparalleled flavor burst.
Simply put, the unique conical coil and lightning fast ramp up synergistically combine to create a vapor compression pathway that speeds vapor delivery, producing a robust, thicker, richer vapor that explodes with flavor in your mouth.
Double Vapor Condenser For Amazing Flavor
nexMESH sub ohm tank dual compressionDense vapor and incredible flavor!
To maximize your flavor experience our unique top dome adds a second condensation chamber that further compresses your vapor resulting in a smooth, thick vapor that amplifies the flavor sensation.
Innovative Wicking - TAS Twin Absorption System
To further enhance your vaping experience, reduce spit back and1 avoid dry hits the nexMESH conical coil features a unique dual layer organic cotton. Incorporating two separated layers of cotton , the unique wicking system delivers rapid and consistent cotton saturation minimizing the risk of both oily lips or dry hits.
So now you have an overview of how this amazing flavor profiling sub ohm tank works, let's talk about about the coils.
FEATURES:
A1 and 316L mesh coils for great texture
double cotton design & dual vapor compression system
thicker mesh weave and smoother airflow
top filling design for convenience
oil leakage resistance
WHAT'S IN THE BOX:
1 x nexMESH Sub-Ohm Tank
(0.20O A1 nexMESH Coil Coil Pre-installed)
1 x Extra Tube
1 x Extra Coil
1 x User Manual
1 x bag Extra O-rings
1 x OFRF Sticker