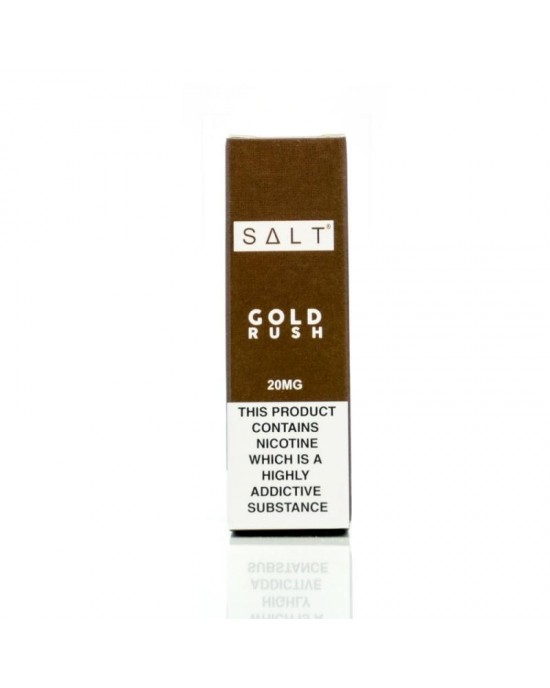 Secured Shopping
Best security features

Viva wallet
Secure Card Payments
Salt - Gold Rush Nic Salt 10mg
Salt eliquid is a Nicotine Salt product. Formulated for smokers, dual users and those seeking faster absorption.
Nicotine Salts (Nic Salts) are extracted directly from the natural tobacco leaf versus traditionally being made using a form of artificial nicotine called 'free base'.

Free base nicotine can be quite harsh on the throat and can cause discomfort for some vapers. Nic salts are absorbed to the body far quicker than standard E liquid, so it provides a much quicker hit to keep your nicotine cravings at bay.

In addition to this, Nic salts take away that harsh throaty aftertaste as they stay smooth even after being heated by your vaping device.

Flavour: Gold Rush: Luxurious tobacco blend with a cigarette-style nicotine rush: Gold Rush e-liquid by SALT serves up dark rolling tobacco flavour with notes of nuts and spices. Tobacco connoisseurs, this one deserves your attention.
Strength: 10mg

BRAND: Salt

Available in 10mL

A choice of Nicotine Content

50pg/50vg (for more info on the mix please see our VG vs PG information page.

TPD Compliant

You must be eighteen (18) years of age, to purchase any products from Queen Of Vapes

WARNING: NICOTINE IS A POISON. NICOTINE IS HARMFUL. KEEP OUT OF REACH FROM CHILDREN AND LOCKED AWAY IN A SAFE PLACE. IF ANY NICOTINE PRODUCT IS CONSUMED, SEEK MEDICAL ASSISTANCE IMMEDIATELY.