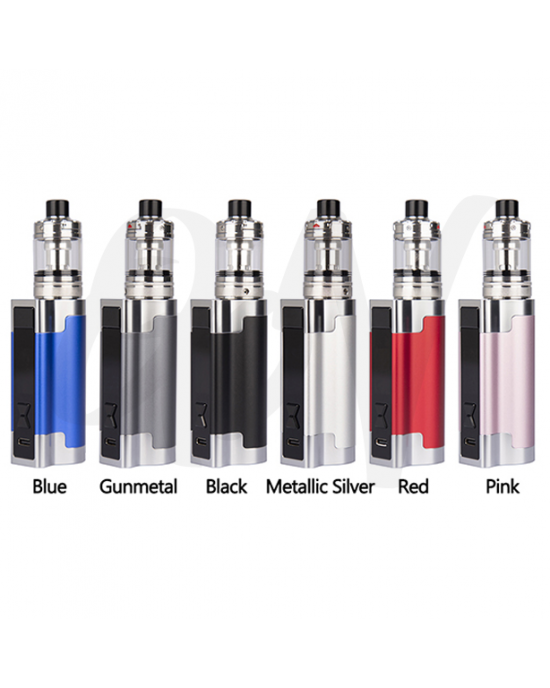 -12 %
Secured Shopping
Best security features

Viva wallet
Secure Card Payments
Aspire Zelos 3 80W V3Kit

Aspire
Aspire Zelos 3 Kit is an ultra-modern e-cigarette designed for vapers of all experiences. With a powerful battery and a range of user-friendly settings, you're guaranteed a premium vaping experience with the Zelos Kit.
This kit may be compact in size, but it packs a real punch thanks to its 3200mAh built-in battery. The battery power combined with the intelligence of the Aspire ASP chipset provides the variable wattage as well as many other modes.
The device has an adjustable wattage of 5W-80W, along with a choice of output settings, including Variable Voltage, Bypass Mode and TC Mode.
A 0.96in colour TFT screen is provided to view your vaping data, and you can choose from 5 screen colour themes as well as adjust the brightness.

ABOUT THE ASPIRE NAUTILUS 3 TANK
The Aspire Zelos 3 kit is equipped with the fantastic Aspire Nautilus 3 tank. As seen before on Aspire tanks, the Nautilus 3 has an adjustable airflow with seven airflow inlet holes ranging from 0.8-3mm. The precise airflow results in a fantastic vaping experience, getting the most out of your e-liquid.
The tank has a 2ml capacity and is easily refilled thanks to the convenient top-fill feature. The tank is compatible with all Nautilus series coils and Triton coils, and can be easily replaced thanks to the press-coil installation feature.
The Zelos 3 Kit is available six brilliant colours, so you're guaranteed to find a style that suits you.
KEY FEATURES:
Sleek and modern look
Powerful 3200mAh battery
Convenient top-fill design
2ml e-liquid capacity
Compatible with Aspire Nautilus coils, Nautilus 2 coils, Nautilus 2s coils and Triton mini coils
Adjustable wattage range of up to 80W
Various adjustable modes
Type C USB quick charging ability.
MORE ABOUT THE ASPIRE ZELOS 3 KIT
ASPIRE ZELOS 3 MOD SPECS:
Size: 81x38x28mm
Battery: 3200mAh (internal)
Display: 0.96in colour TFT screen – colour theme and brightness adjustment Output: 1-80W (0.5-8.4V)
User modes: VW, VV, Bypass, TC, TCR, CPS
Type C USB charging – 2A charge rate
Temperature control limits: 200-600°F / 100-315°C
Resistance range: 0.1-3.5ohm
ASP Chipset
ASPIRE NAUTILUS 3 TANK SPECS:
Size: 24×48.5mm
Capacity: 2ml (TPD)
Coil: Compatible with all Nautilus series coils
Adjustable airflow
No leak coil change
Slide top fill cap
PACKAGE CONTENTS:
1 xZelos 3 mod
1 x Nautilus 3 tank
1 x Nautilus BVC Coil 1.8ohm
1 x 0.7ohm Nautilus 2S Mesh coil
1 x USB Type C Cable
1 x Spare drip tip
1 x O-rings
1 x User manual
Warning
Battery Safety
Use special caution when working with all Li-ion cells (Batteries), they are very sensitive to charging characteristics and may explode or burn if mishandled. Make sure the you have knowledge of Li-Ion rechargeable batteries in charging, discharging and assembly before use. Always charge in/ on a fire-proof surface. Never leave batteries charging unattended or overnight. Do not charge on carpets, couches, near curtains or other flammable items. Please be sure to use the correct specification charger with the correct device/ battery. Failure to use the correct specification charger could result in damaging the battery and/or explosion or fire. Just because a battery can be screwed into a certain type of charger does NOT necessarily mean it is the correct charger for the device! Never continue to use an e-cigarette if you can feel the battery get hot. If your battery gets hot to the touch, or if it begins smelling: DO NOT USE IT ANYMORE. Let it cool down (1 hour) in a safe environment (outside preferably), and dispose of correctly, or make arrangements to return, if still under warranty. If your e-cigarette or device begins activating itself, immediately remove your atomiser and disconnect the battery. Do NOT trust the battery, nor the atomiser anymore from this point on. This means never leave either of the components connected in your pocket, in your nightstand, or out of visibility where you can not immediately separate the two components. QoV are not responsible for damage if there is any modification of the batteries/chargers in any form or shape (including pack making). We are not responsible for any damage caused by misuse or mishandling of Li-Ion batteries and chargers. We will not be held responsible or liable for any injury, damage, or defect, permanent or temporary that may be caused by the use of any batteries.