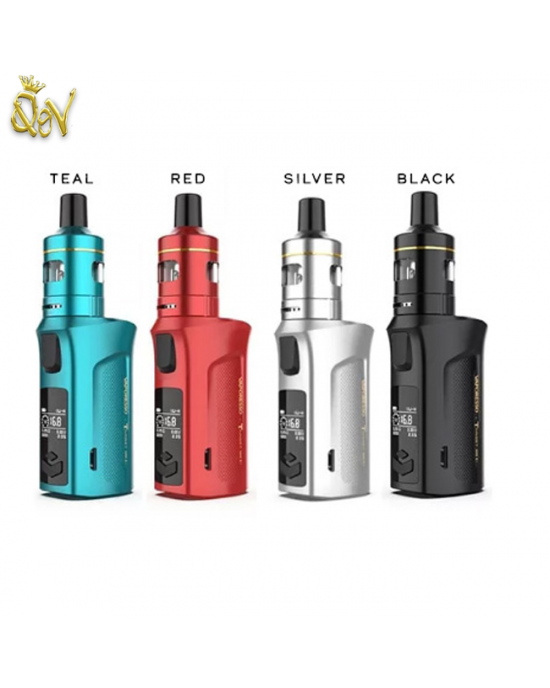 Secured Shopping
Best security features

Viva wallet
Secure Card Payments
Vaporesso Target Mini 2 Starter Kit
Price in reward points: 94

Aspire
Target Mini II features an ergonomic design which fits comfortably into the hand while the large firing button nestles under the thumb.
The original Target Mini already had a reputation for great flavours, and the VM22 tank improves on this, employing CCELL coils which use tea cotton fibre for rich flavour.
The kit comes with a choice of mesh or ceramic coils, allowing vapers to experiment and choose their preferred coil. The coils are designed to be fast and easy to change: simply remove the bottom of the tank and drop in the coil. The design ensures that no e-liquid is wasted in the process. Filling is also simple - simply remove the top cap to reveal the filling port and squeeze in your e-liquid.
The Target Mini II has a wattage range of 5-50 watts and comes with a host of features including intelligent temperature control and pre-heat settings.


The Target Mini II is a great option for vapers who prefer mouth-to-lung vapes and prioritise flavours. The range of advanced features also mean this is suitable for advanced users, while the power levels mean this device can be used for direct-lung vaping with a lower resistance coil.

Compatible Coils
The Target Mini II works with EUC coils (also known as EU CCELLS).

Key features
Tea fiber mesh coils
Fast charging
Easy coil drop in function, no need to screw in the coil or empty e-liquid
Ergonomic design
Top fill, remove cap to reveal
Compact
Solid build

Intelligent temperature control
Preheat VW S = Soft, VW N = Normal & VW H = Hard
TC Settings: SS (Stainless Steel), NI (Nickel) & Titanium
M1 & M2 for custom TC settings
BP – Bypass mode
CCW for custom power curve setting
Adjustable date & time settings
Specs
Target Mini II Mod
Dimensions: 37.2 x 25.7 x 63.0mm
Net weight: 112g
Output wattage: 5~50W
Resistance: 0.03~5Ω
Battery: 2000mAh Built-in
Display: 0.66" OLED
VM Tank 22
Dimensions: 22.2 x 48.7mm
Capacity: 2ml
Coils
EUC CCELL Coil: 1.0Ω, 10~13W (pre-installed)
EUC Meshed Coil: 0.6Ω, 16~22W
Coolfire Mini
Operating Voltage:
3.0V-7.5V
Micro USB Charging
Over-Discharge Protection
Operating Wattage:
6.0W-40W
Low Voltage Warning
Short Circuit / Atomizer Protection
Battery:
1300mAh
Over-Heat Protection
0.5ohm coils:
Work best at 14-19W
(Offers a slightly warmer vape and slightly higher wattage)
1.6ohm:
Work best 10-14W
(Offers a cooler vape at lower wattages and works great with nicotine salts)
Easy Twist Top-fill
Precision adjustable airflow
Prevents flooding and gurgling when filling
Warning
Battery Safety
Use special caution when working with all Li-ion cells (Batteries), they are very sensitive to charging characteristics and may explode or burn if mishandled.Make sure the you have knowledge of Li-Ion rechargeable batteries in charging, discharging and assembly before use.Always charge in/ on a fire-proof surface.Never leave batteries charging unattended or overnight.Do not charge on carpets, couches, near curtains or other flammable items.Please be sure to use the correct specification charger with the correct device/ battery. Failure to use the correct specification charger could result in damaging the battery and/or explosion or fire.Just because a battery can be screwed into a certain type of charger does NOT necessarily mean it is the correct charger for the device!Never continue to use an e-cigarette if you can feel the battery get hot. If your battery gets hot to the touch, or if it begins smelling: DO NOT USE IT ANYMORE. Let it cool down (1 hour) in a safe environment (outside preferably), and dispose of correctly, or make arrangements to return, if still under warranty.If your e-cigarette or device begins activating itself, immediately remove your atomiser and disconnect the battery. Do NOT trust the battery, nor the atomiser anymore from this point on. This means never leave either of the components connected in your pocket, in your nightstand, or out of visibility where you can not immediately separate the two components.Queen Of Vapes are not responsible for damage if there is any modification of the batteries/chargers in any form or shape (including pack making). We are not responsible for any damage caused by misuse or mishandling of Li-Ion batteries and chargers. We will not be held responsible or liable for any injury, damage, or defect, permanent or temporary that may be caused by the use of any batteries.