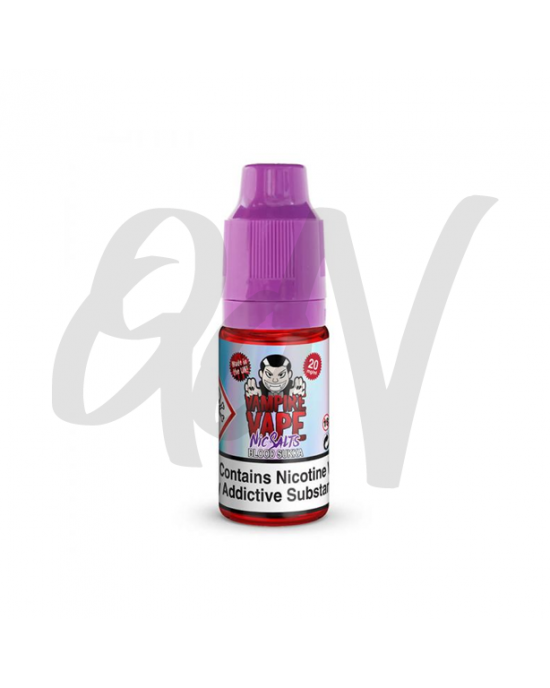 New Limited Offer -43 %
Secured Shopping
Best security features

Viva wallet
Secure Card Payments
Vampire Vape Salt - Blood Sukka

Vampire Vape
With a smoother throat hit and faster nicotine delivery, nicotine salt e-liquids are popular with new vapers. Available in ten delicious flavours with a choice of 10Mg or 20Mg nic salts, Vampire Vape nic salts provide a smoother, more satisfying vape experience without the bite.
Features:
Flavour: Blood Sukka - A ripe blend of juicy cherries, summer berries and fresh red fruits. This powerful tasting blend has been infused with the sweet taste of eucalyptus and strong aniseed. The fruity mix is also enhanced by a menthol burst which gives a hearty throat hit with each inhale.

Strength: 20mg

BRAND: Vampire Vape

Available in 10mL

20mg Salt Nicotine Content

50pg/50vg (for more info on the mix please see our VG vs PG information page.

TPD Compliant

You must be eighteen (18) years of age, to purchase any products from Queen Of Vapes

WARNING: NICOTINE IS A POISON. NICOTINE IS HARMFUL. KEEP OUT OF REACH FROM CHILDREN AND LOCKED AWAY IN A SAFE PLACE. IF ANY NICOTINE PRODUCT IS CONSUMED, SEEK MEDICAL ASSISTANCE IMMEDIATELY.