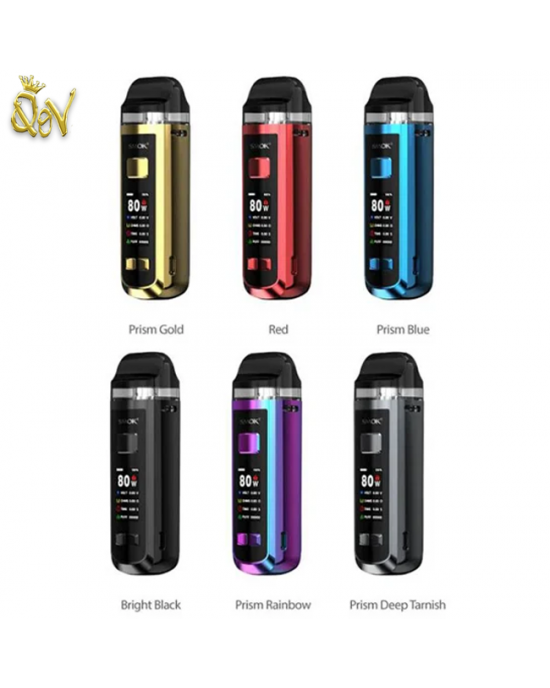 -10 % 2-3 Days
Secured Shopping
Best security features

Viva wallet
Secure Card Payments
Smok RPM 2 80w kit
Price in reward points: 72

SMOK
SMOK RPM 2 80W takes pod mod vaping to the next level with upgrades in every department. In the kit you get two pods which cater to different types of vaping. RPM 2 TPD Edition Pod has 2mL capacity and comes with a Mesh 0.16mL coil preinstalled. The mouthpiece features and large (9.5 x 5.6mm aperture which allows more airflow, perfect for direct lung vaping. Also in the kit is a RPM Pod (with smaller aperture) which houses an RPM Mesh 0.4 Ohm coil, perfect for mouth to lung vaping.
Both feature side fill slots, 4 magnets to hold the pod firmly in place and a large viewing window to monitor your levels. If you already know which vaping style you're going to do, it might be a good idea to grab extra coils to save on shipping.

The RPM 2 pod mod has also received a suite of improvements. The User Interface has been completely redesigned to give you more information and make it easier to read. A stunning 1.14 inch color TFT displays all your need to know vaping data like puff time, puff count, wattage, voltage and resistance.

An exceptional new feature is the RPM 2 can tells you how many puffs you have left for your current level of charge. It's worth noting that this is calculated by charge level and current coil resistance.

The charge port has been moved to the side of the mod and upgraded to Type-C USB for faster more stable charging. It also supports pass-through vaping so that you can vape while it charges.

For your safety SMOK as usual have added a suite of protection features which include: Intelligent Atomizer Recognition, Puff Monitoring, 8 Second Cut-Off, Short Circuit, Over-Heating and Low Battery Warning.

SMOK RPM 2 80W Kit Spec:
Dimensions 108.5mm(h) x 31mm(w) x 28.5mm(d)
Weight: 132g
Battery Capacity: 2000mAh
Output Wattage: 1W-80W
Standby Current: < 100uA
Input Voltage: 3.3V-4.2V±0.2V
Output Voltage: 0.5V-4.0V
Resistance Range: 0.15-3.0 Ohm
Charging Voltage: 5V±0.2V
Charging Current: 1.4A (Max)
Overcharge Voltage: 4.3V±0.05V
Overdischarge Voltage: 2.4V±0.05V
Overcharge Current: 2A±0.6A
Charging Port: USB Type-C
Firing Time: 0.001s
Display: 1.14inch TFT Display
Pod Type:
RPM 2 Pod (RPM 2 Mesh 0.16 Ohm Coil Preinstalled)
(RPM 2) RPM Pod (RPM Mesh 0.4 Ohm Coil Preinstalled)
Pod Capacity: 2mL
Filling Method: Side Filling
Color Options: Bright Black, Prism Gold, Red, Prism Blue, Prism Rainbow, Prism Deep Tarnish
SMOK RPM 2 80W Kit Spec:
1 x RPM 2 Device (integrated 2000mAh battery)
1 x 2mL RPM 2 Pod (RPM 2 Mesh 0.16 Ohm Coil Preinstalled)
1 x 2mL (RPM 2) RPM Pod (RPM Mesh 0.4 Ohm Coil Preinstalled)
1 x Type-C Cable
1 x User Manual