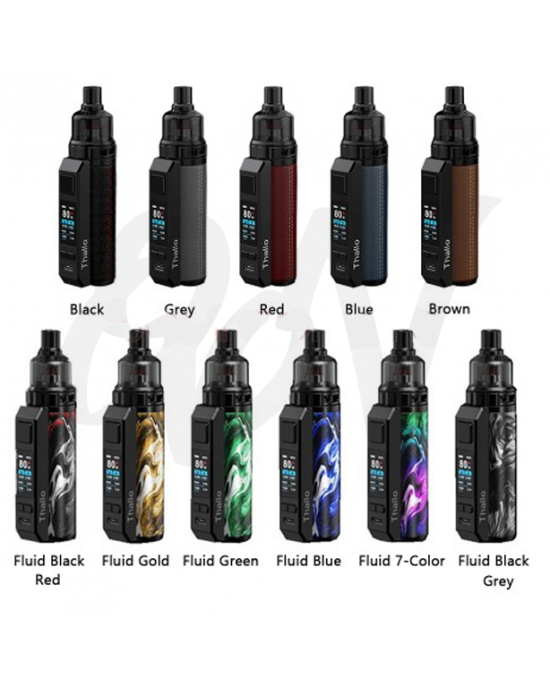 -14 % Out Of Stock
Secured Shopping
Best security features

Viva wallet
Secure Card Payments
Smok Thallo pod kit

SMOK
Smok Thallo Kit is a powerful device which can reach a maximum output of 80W. It is an ideal kit for those who enjoy sub-ohming and is powered by a built in 3000mAh battery, which can be charged quickly via the USB-C port.
This dynamic kit can suit both MTL and DTL vaping, with a large range of compatible coils and adjustable wattage. It is recommended for both experienced and intermediate vapers.
In addition, this kit features an advanced IQ-XS chipset which provides you with a quick fire, no matter what wattage you have your device set on, and protects you against any chances of overheating and overcharging. The newly designed screen which is located on the front of the device allows you to adjust your settings to your preferred vaping style.
The Smok Thallo RPM 2 Pod, included within the kit, can hold up to 2ml of e-liquid and is compatible with a range of different coils. It's simple refill mechanism eliminates any possibilities of leaking. The following coil variants are recommended:
Spec:
Dimensions – 123.65mm x 37.7mm x 30mm
Pod Capacity – 2ml
Weight – 148g
Power Range – 1W to 80W
Voltage Output – 0.8V to 4.0V
Voltage Input – 3.3V to 4.2V
Included in the box:
1 Smok Thallo Kit
1 Thallo RPM 2 Pod

1 RPM2 Mesh 0.16ohm Coil

1 RPM2 DC 0.6ohm Coil
1 Type-C Cable

1 User Manual

Coils:
0.16ohm RPM 2 coil – ideal for DTL vaping
0.6ohm RPM 2 coil – ideal for MTL vaping