Smok Devilkin Vape Kit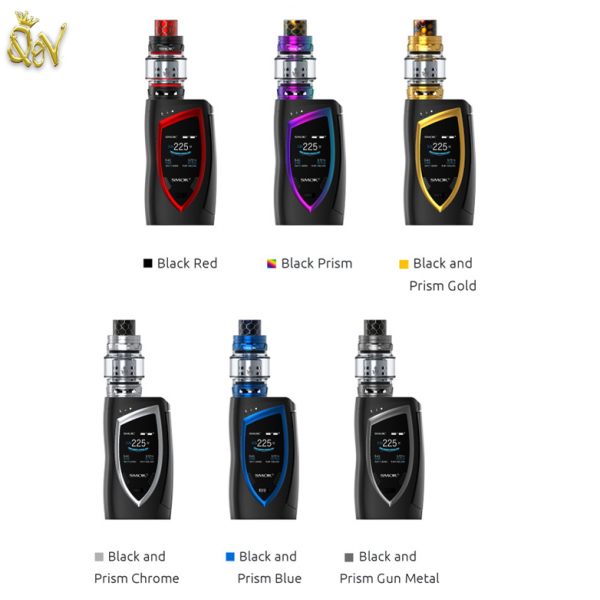 Smok Devilkin Vape Kit has a 225W maximum output, is powered by dual 18650 vape batteries and includes the TFV12 Prince vape tank as well. The device has a 1.3 inch TFT HD screen combined with a new operation interface. This provides more data clearly such VW (Variable Wattage) Mode, TC (Temperature Control) Mode, vaping effect, battery life, resistance value and other useful information. The screen has multiple colour settings allowing the user to customise the device their personal preference.
The Smok Devilkin has an ergonomic design, small radians in the middle of the body provide improved grip and comfort levels. It also has a large lateral fire key making operations easier, and for those after sharp looks, the back of the device has a snake pattern blade which matches that of the drip tip. The Smok Devilkin has upgradeable firmware and mutliple protections including intelligent atomiser recognition, 10 second cut off and short circuit protection.
The TFV12 Prince vape tank has a 2ml capacity and the cobra drip tips provide increased airflow. The top fill system has a patented locking system, which ensures no accidental openings and leakage. The kit includes V12 Prince Vape Coils; a Q4 0.4 Ohm Quadruple coil and Prince T-10 0.12 Ohm Decuple coil.


Contains:
1 x Smok Devilkin Mod
1 x TF12 Prince EU Tank (2ml)
1 x V12 Prince-Q4 0.4ohm Quadruple Coil (pre-installed)
1 x V12 T10 0.12ohm Decuple Coil
1 x USB Cable
1 x User Manual
Spare Parts

Features:
Devilkin Mod
225W Output
Dual 18650 Batteries Required (sold separately)
Variable Wattage / Temperature Control
1.3 Inch TFT HD Screen
Upgradeable Firmware
TF12 Prince Vape Tank
2ml Capacity
Cobra Drip Tip
Patented Locking Mechanism
Top Refill
Warning
Battery Safety
Use special caution when working with all Li-ion cells (Batteries), they are very sensitive to charging characteristics and may explode or burn if mishandled. Make sure the you have knowledge of Li-Ion rechargeable batteries in charging, discharging and assembly before use. Always charge in/ on a fire-proof surface. Never leave batteries charging unattended or overnight. Do not charge on carpets, couches, near curtains or other flammable items. Please be sure to use the correct specification charger with the correct device/ battery. Failure to use the correct specification charger could result in damaging the battery and/or explosion or fire. Just because a battery can be screwed into a certain type of charger does NOT necessarily mean it is the correct charger for the device! Never continue to use an e-cigarette if you can feel the battery get hot. If your battery gets hot to the touch, or if it begins smelling: DO NOT USE IT ANYMORE. Let it cool down (1 hour) in a safe environment (outside preferably), and dispose of correctly, or make arrangements to return, if still under warranty. If your e-cigarette or device begins activating itself, immediately remove your atomiser and disconnect the battery. Do NOT trust the battery, nor the atomiser anymore from this point on. This means never leave either of the components connected in your pocket, in your nightstand, or out of visibility where you can not immediately separate the two components. QoV are not responsible for damage if there is any modification of the batteries/chargers in any form or shape (including pack making). We are not responsible for any damage caused by misuse or mishandling of Li-Ion batteries and chargers. We will not be held responsible or liable for any injury, damage, or defect, permanent or temporary that may be caused by the use of any batteries.