Smok P25-Prince Stick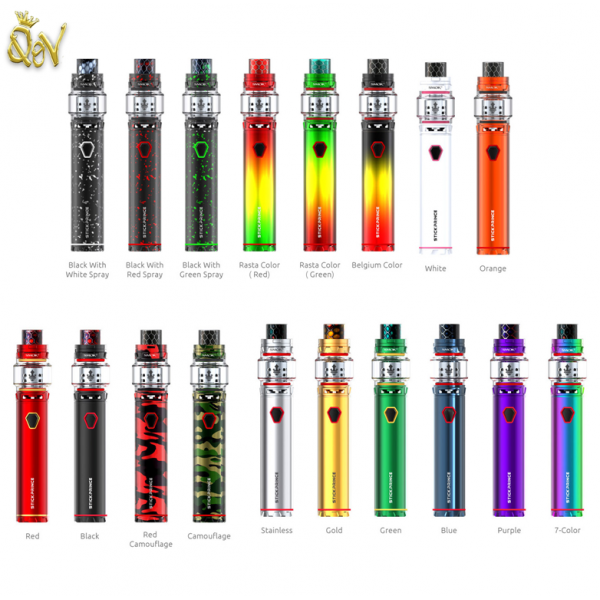 SMOK Stick Prince KitThe SMOK Stick Prince is a powerful vape kit combination featuring a 3000mAh battery base and the new TFV12 Prince tank. The Stick Prince features smok's newly developed hexagon shaped power/fire button along with an intelligent battery LED indicator light so you are always informed of the status of your Smok Stick Prince.Paired with the new Stick Prince Kit is the Smok Prince TFV12 Tank featuring 8mls of juice capacity, dual bottom airflow, food-grade glass materiel and a "Press-To-Open" rotary hinged Top Fill system featuring a newchild safe locking system which reduces the chances of leaking. The TFV12 Prince Tank utilzes the new Prince coil with its massive flavor and cloud possibilities. SMOK V12 Prince Coil Family includes: The V12 Prince-T10 Decuple Coil Head with a resistance of 0.12 ohm and a power range of 60-120W; V12 Prince-X6 Sextuple Coil Head with a resistance of 0.15ohm and a power range of 50-120W; the V12 Prince-Q4 Quadruple Coil Head with a resistance range of 0.4 ohm and a power range of 40-100W: and V12 Prince -M4 Quadruple Coil Head with a resistance of 0.17ohm and a power range of 30 - 70W. Applicable for Mechanical Mods.
The TFV12 Prince Tank uses a new Cobra wide bore drip tip made with dyed resin materials and a striking snake scaled pattern. The Smok Stick Prince Kit is the vape platform that was born to be legend, perfect for beginners getting into vaping or veterans looking for a powerful all day vape device.
Specifications and Features-

Stick Prince :
Size: 24.5mm x 85mm
Weight: 88.5g
Battery Capacity 3000mAh
Standby current: <200uA
Voltage Range 3.4V - 4.2V
Intelligent LED Battery Indicator Light
Hexagon power/fire button

Easy to use UI - One Button

Low voltage protection
8 second cut off timer
Short circuit protection
TFV12 Prince Tank:
Tank Size: 63mm (H) * 28mm (D)
Stainless Steel and Glass Construction
2ml Max Capacity - (Available with oversized bubble glass see accessorises)
25mm Diameter Base
Hinge and Lock Top Fill System

Swivels Open and Shut
Fill Port
Newly implemented child safe locking system which drastically reduces the chances of leaking

Dual Adjustable Airslots
Utilizes Prince coil
Warning
Battery Safety
Use special caution when working with all Li-ion cells (Batteries), they are very sensitive to charging characteristics and may explode or burn if mishandled. Make sure the you have knowledge of Li-Ion rechargeable batteries in charging, discharging and assembly before use. Always charge in/ on a fire-proof surface. Never leave batteries charging unattended or overnight. Do not charge on carpets, couches, near curtains or other flammable items. Please be sure to use the correct specification charger with the correct device/ battery. Failure to use the correct specification charger could result in damaging the battery and/or explosion or fire. Just because a battery can be screwed into a certain type of charger does NOT necessarily mean it is the correct charger for the device! Never continue to use an e-cigarette if you can feel the battery get hot. If your battery gets hot to the touch, or if it begins smelling: DO NOT USE IT ANYMORE. Let it cool down (1 hour) in a safe environment (outside preferably), and dispose of correctly, or make arrangements to return, if still under warranty. If your e-cigarette or device begins activating itself, immediately remove your atomiser and disconnect the battery. Do NOT trust the battery, nor the atomiser anymore from this point on. This means never leave either of the components connected in your pocket, in your nightstand, or out of visibility where you can not immediately separate the two components. QoV are not responsible for damage if there is any modification of the batteries/chargers in any form or shape (including pack making). We are not responsible for any damage caused by misuse or mishandling of Li-Ion batteries and chargers. We will not be held responsible or liable for any injury, damage, or defect, permanent or temporary that may be caused by the use of any batteries.