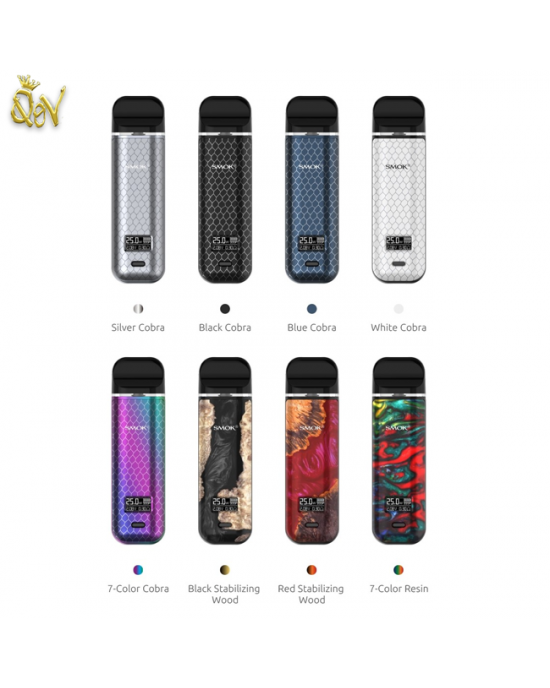 -10 % Out Of Stock
Secured Shopping
Best security features

Viva wallet
Secure Card Payments
Smok Novo X 25w Pod Kit 800mAh
Price in reward points: 48

SMOK
Novo X is an upgrade on SMOK's fantastic NOVO series of kits, featuring the fantastic 800mAh battery from the Novo 2, and fitted with an adjustable wattage and 0.49" OLED screen so that you can adjust the power to fit your vaping needs!
Small but Smart
The 0.49" small and clear OLED screen can tell you the key data associated with the device, as well as displaying charging information while the device is plugged in. The device features an 800mAh battery with a wattage range of 1-25W which will keep you vaping all day long with no worries! Power can be easily adjusted by pressing the power button two or three times to enter power adjustment mode.
Smooth Vapour
The two-way U-shaped airflow channel can greatly increase the air inflow and produces and ultra-smooth vapour experience with a comfortable throat hit.
MTL Coil
SMOK have conducted numerous tests in the lab to find the optimum way to retain the original flavour in each puff. The MTL coil is exactly what you've been waiting for, and it can perfectly deliver the flavour and mouth feel that you are striving for!
Multiple Safety Protections
Short Circuit Protection
Low Voltage Protection
Atomiser Recognition
Lithium-ion Protection
8 Second Cut Off
Specs:
Size: 26.5mm x 16.5 mm x 92mm
Weight: 50.2g
Battery Capacity: 800mAh
Standy Current: <50uA
Input Voltage: 3.3V - 4.2V
Output Voltage: 0.5V - 4.0V
Output Power: 1W - 25W
Resistance Range: 0.4 Ohm - 3.0 Ohm
Charging Voltage: 5V
Charging Current: Max 0.68A
Overcharge Voltage: 4.3V
Overdischarge Voltage: 2.4V
Overcharge Current: 1.75A
Package Contents:
1 x Novo X Device (800mAh)
2 x Novo X DC 0.8 Ohm MTL Pod (2ml)
1 x USB Cable
1 x User Manual