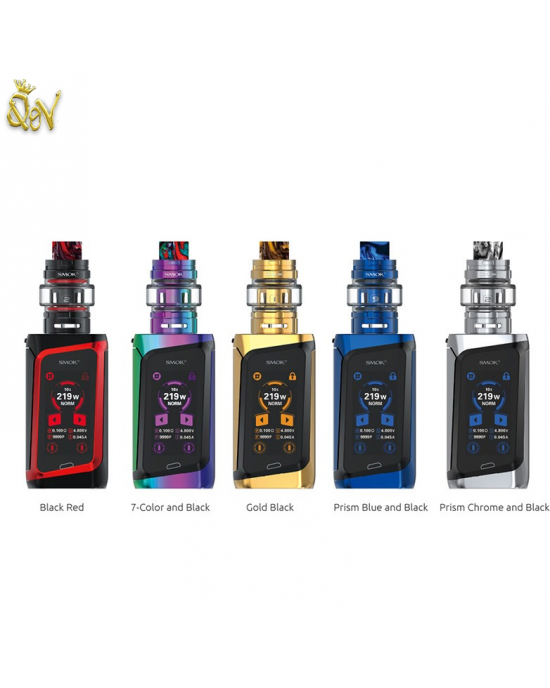 Secured Shopping
Best security features
Paypal Integration
All card Payments
Smok MORPH 219W TC KIT Vape Kit
Price in reward points: 120

SMOK
Smok Morph 219, which is the world's first mod designed with input keyboard, the perfect combination of classic style and modern trend, the Smok 219W Mod has a glossy finish and at the back it is inlaid with exquisite IML resin, the Morph Mod built-in the newest IQ-S chipset, which allow the firing speed low to 0.001S, it powered by dual high-rate 18650 batteries and max output 219watts, vapers can choose the various working modes, it supports the NI, TI, SS heating elements and TCR function under TC mode, vapers also can choose the MyMode working mode, you can set 4 sets of parameters, after finishing the setting, you can save it. the Smoktech Morph adopts the new 1.9Inch touch screen, which is responsive, with the brand new user interface, most of the operations can be finished by a simple touch. there is a big lateral fire key on the left side, much easier to operate than right side ones, there also one small secondary key to lock and unlock the device easily. the Morph Mod with classic push-to-open battery door, allow vapers to install and replace the batteries quickly. vapers can charge the batteries by connecting to a wall adapter or the power bank via the micro USB port, the multiple functions to avoid potential risks, the Smok Box Mod with innovative passcode setting design, which can prevent other people from using the device and protect your pets and children. by the way, the firmware is upgradable. Tank comes with the colorful resin drip tips, which made of healthy material, sleek and beautiful colors, the new Smok Tank with the higher base than the old tanks, which can offer larger room for the airflow, the Smok TF Sub Ohm Tank with convenient top refill design, vapers can inject your favorite e-liquid inside quickly, no leaking worry, there are dual large airflow adjustable slots on the base, you can adjust the air flow freely. two new coil heads available for the new TF tanks, the 0.25ohm BF-Mesh and 0.5ohm Ceramic coil heads, the mesh coils with the large heating area and longer lifespan will produce the best flavor. and the ceramic coil will send you the intense flavor.
Material: Zinc Alloy + Stainless Steel
Colors: Black Red, 7-Color And Black, Gold Black, Prism Blue And Black, Prism Chrome And Black
Size: 84.5*44.8*30.2mm
Built-in The IQ-S Chipset
Powered By Dual High-Rate 18650 Batteries(Sold Separately)
Output Power Range: 1-219W(VW)/10-219W(TC)
Working Modes: VW, TC-NI, TC-TI, TC-SS, TCR, MyMode
Resistance Range: 0.1-2.5ohm(VW)/0.05-2.0ohm(TC)
Temperature Control Range: 100-300?/200-600?
1.9Inch Colorful Touch Screen + Brand New User Interface
6 Colors Screen Color Setting
Password Setting
Big Lateral Ergonomically Designed Fire Key
Push-To-Open Battery Door
Secondary Key To Lock And Unlock
Standby Current: <400uA
Input Voltage: 6.4V-8.4V
Output Voltage: 0.5-8.2V
Firming TIme Low TO 0.001S
Charging Current: 1.8A
Charging Voltage: 5V
Micro USB Port For Charging And Firmware Updating
Intelligent Atomizer Recognition
Puff Monitoring System
10 Seconds Cut-Off
Reverse Polarity Protection
Over-Heating Protection
Low Battery Warning
1*Morph 219 TC Box Mod
1*TF Sub Ohm Tank
1*TF BF-Mesh 0.25ohm Coil Head(Pre-Installed)
1*TF BF-Mesh 0.25ohm Coil Head
1*Bulb Glass Tank Protective Silicone
1*Extra Straight Glass Tube
1*USB Cable
1*User Manual
1*Spare Parts
Warning
Battery Safety
Use special caution when working with all Li-ion cells (Batteries), they are very sensitive to charging characteristics and may explode or burn if mishandled. Make sure the you have knowledge of Li-Ion rechargeable batteries in charging, discharging and assembly before use. Always charge in/ on a fire-proof surface. Never leave batteries charging unattended or overnight. Do not charge on carpets, couches, near curtains or other flammable items. Please be sure to use the correct specification charger with the correct device/ battery. Failure to use the correct specification charger could result in damaging the battery and/or explosion or fire. Just because a battery can be screwed into a certain type of charger does NOT necessarily mean it is the correct charger for the device! Never continue to use an e-cigarette if you can feel the battery get hot. If your battery gets hot to the touch, or if it begins smelling: DO NOT USE IT ANYMORE. Let it cool down (1 hour) in a safe environment (outside preferably), and dispose of correctly, or make arrangements to return, if still under warranty. If your e-cigarette or device begins activating itself, immediately remove your atomiser and disconnect the battery. Do NOT trust the battery, nor the atomiser anymore from this point on. This means never leave either of the components connected in your pocket, in your nightstand, or out of visibility where you can not immediately separate the two components. QoV are not responsible for damage if there is any modification of the batteries/chargers in any form or shape (including pack making). We are not responsible for any damage caused by misuse or mishandling of Li-Ion batteries and chargers. We will not be held responsible or liable for any injury, damage, or defect, permanent or temporary that may be caused by the use of any batteries.