Smok Majesty 225W TC Starter Kit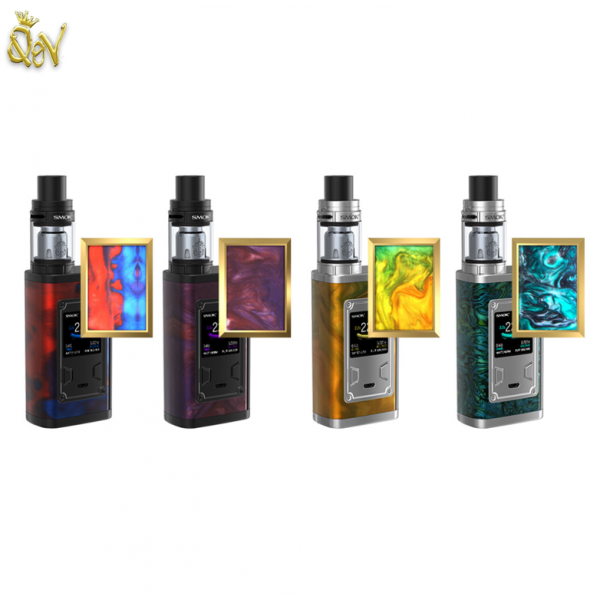 SMOK Majesty Resin is advanced addition in market which contains latest chipset to new heights with a colorful OLED screen. Majesty kit is a powerful device that can power upto 225W and paired with TFV8 Baby Beast Tank it can be paired with new TFV8 X depending on your selected edition.

Majesty Box Mod is released by SMOKTech with incredible output, it has two firing style types Carbon Fiber Edition and Resin edition. It introduces very user friendly, customize-able and colorful OLED with convenient cutting edge. The Mod can display detailed battery state and output adjustments at a glance with vibrant display. It integrated internal board that has suit of safety features along with battery series connection.
SMOK Majesty Kit can be paired with TFV8 X that has a system to produce brand new coil structure with leak proof top airflow system. The tank has 4ml juice capacity that suits to this powerful device. The airflow structure has evolved with the integration of a stupendous top-airflow system, assimilating two large adjustable air slots that redirects down to the atomizer chamber for a leak-proof design and flavor-orientated performance. TFV8 X coil family improved overall structure that allowing airflow to rapidly enter that system and gives unmatched rate of delivery, overall capability is also increased by introducing brand-new coil structure with an batter coil chassis arrangement along with four large wicking ports for quick saturation process.

Features of SMOK Majesty Box Mod
Overall dimension 85.1mm x 46.1mm x 30.6mm
Compatible with 18650 dual batteries (Sold separately)
Output wattage maximum 225W
Range of resistance minimum 0.06 ohm
Range of variable temperature is 200 to 600F
Heating elements that are compatible, Ni200 Nickel, Titanium & Stainless Steel
Precision Memory Modes
Constructed with premium zinc alloy
Carbon fiber / resin colorful accenting patterns
Colored OLED display matrix also customize able colors
Dual batteries life indicator
Monitoring puff
Connection with 510 threading
Stealth Squeeze to fire mechanism
Firmware upgrade-able USB port

Package Included
1 x Majesty 225W box mod with carbon fiber OR resin
1 x TFV8 X Baby Tank
1 x 0.4 ohm X Baby Q2 core
1 x 0.2 ohm X Baby T6 core
1 x replaceable glass tube
1 x cable for micro USB port
1 x instruction book
Spare parts
Warning
Battery Safety
Use special caution when working with all Li-ion cells (Batteries), they are very sensitive to charging characteristics and may explode or burn if mishandled. Make sure the you have knowledge of Li-Ion rechargeable batteries in charging, discharging and assembly before use. Always charge in/ on a fire-proof surface. Never leave batteries charging unattended or overnight. Do not charge on carpets, couches, near curtains or other flammable items. Please be sure to use the correct specification charger with the correct device/ battery. Failure to use the correct specification charger could result in damaging the battery and/or explosion or fire. Just because a battery can be screwed into a certain type of charger does NOT necessarily mean it is the correct charger for the device! Never continue to use an e-cigarette if you can feel the battery get hot. If your battery gets hot to the touch, or if it begins smelling: DO NOT USE IT ANYMORE. Let it cool down (1 hour) in a safe environment (outside preferably), and dispose of correctly, or make arrangements to return, if still under warranty. If your e-cigarette or device begins activating itself, immediately remove your atomiser and disconnect the battery. Do NOT trust the battery, nor the atomiser anymore from this point on. This means never leave either of the components connected in your pocket, in your nightstand, or out of visibility where you can not immediately separate the two components. QoV are not responsible for damage if there is any modification of the batteries/chargers in any form or shape (including pack making). We are not responsible for any damage caused by misuse or mishandling of Li-Ion batteries and chargers. We will not be held responsible or liable for any injury, damage, or defect, permanent or temporary that may be caused by the use of any batteries.