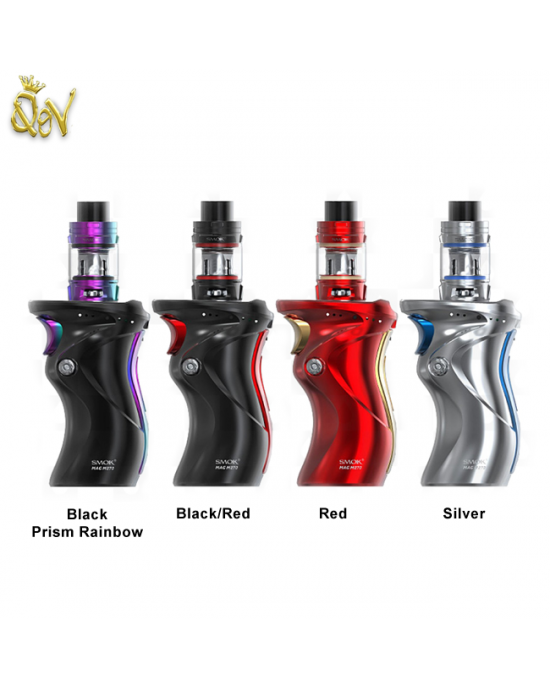 Secured Shopping
Best security features
Paypal Integration
All card Payments
Smok Mag V8 70W Mod Kit
Price in reward points: 104

SMOK
Smok Mag V8 Mod in the kit continues the comfortable grip style shape and portable design of the preceding mag mods. The device measures 91.3mm x 59.5mm x 38.7mm and is made from stainnless steel.
Powering the Mag V8 is a single 21700 battery for long vaping times. And, the device is also compatible with a less portable 20700 or 18650 cell. The battery is loaded via a bottom loaded tray which is similar to inserting a magazine into a gun. Recharges can be done via an easily accessed micro USB port. Firmware upgrades also take place via this interface.
Output tops out at 70 watts. Atomizer minimum resistance comes in at 0.05ohm.
With measurements of 30mm x 54mm, this TFV8 Baby V2 has a bulb shaped juice reservoir. Refills of the atomizer is performed by engaging a lock button on the top cap which rotates to access an e-liquid slot. The gasket on the fill port is located on the bottom to ensure that refills are leak proof.
An upgraded airflow system at the bottom is built with a total of three air inlets. The dimensions of the air slots make it wider for massive vapor production. Airflow works in combination with a 16mm Delrin drip tip to resist heat and improve flavor and vapor.
The Smok TFV8 Baby V2 has unique coil heads that are built with medical grade cotton for health. One of these is built with a mesh heating element for intense vapor. It works from 90 to 140 watts, but is recommended at 110 to 130 watts. Also in the package is a 0.2ohm Baby V2 A2 dual coil. It is said to produce huge vapor and works in the range of 50 to 80 watts.
Features:
Mod Dimensions: 91.3mm x 59.5mm x 38.7mm
Tank Measurements: 30mm x 54mm
Color options: unknown
Power Range: 1W-70W
Output Voltage: 3.4V-4.2V
Micro USB Charging Voltage: 5V
Temperature Range: 200 F–600 F /100C–315C
Resistance Range: 0.1Q-2.5Q (VW)/ 0.05Q-2Q (TC)
5ml capacity
Swiveling top cap exposes juice port
Patented lock
Gasket at bottom for appearance and leak prevention
Three wide air slots – fully adjustable
510 threaded tank connection
16mm wide bore cobra drip tip
New coil system
Pre-installed: 0.17ohm Baby V2 A1
Included: 0.2ohm Baby V2 A2
What's in the box:
●1 x SMOK Mag V8 Mod
●1 x SMOK TFV8 Baby V2 Tank
●1 x Baby V2 S1 0.15ohm Coil (Pre-installed)
●1 x Baby V2 S2 0.15ohm Coil (Included)
●1 x Replacement Glass Tube
●1 x USB Cable
●1 x 18650 Battery Adapter
●1 x User Manual
●Spare Parts
Warning
Battery Safety
Use special caution when working with all Li-ion cells (Batteries), they are very sensitive to charging characteristics and may explode or burn if mishandled. Make sure the you have knowledge of Li-Ion rechargeable batteries in charging, discharging and assembly before use. Always charge in/ on a fire-proof surface. Never leave batteries charging unattended or overnight. Do not charge on carpets, couches, near curtains or other flammable items. Please be sure to use the correct specification charger with the correct device/ battery. Failure to use the correct specification charger could result in damaging the battery and/or explosion or fire. Just because a battery can be screwed into a certain type of charger does NOT necessarily mean it is the correct charger for the device! Never continue to use an e-cigarette if you can feel the battery get hot. If your battery gets hot to the touch, or if it begins smelling: DO NOT USE IT ANYMORE. Let it cool down (1 hour) in a safe environment (outside preferably), and dispose of correctly, or make arrangements to return, if still under warranty. If your e-cigarette or device begins activating itself, immediately remove your atomiser and disconnect the battery. Do NOT trust the battery, nor the atomiser anymore from this point on. This means never leave either of the components connected in your pocket, in your nightstand, or out of visibility where you can not immediately separate the two components. QoV are not responsible for damage if there is any modification of the batteries/chargers in any form or shape (including pack making). We are not responsible for any damage caused by misuse or mishandling of Li-Ion batteries and chargers. We will not be held responsible or liable for any injury, damage, or defect, permanent or temporary that may be caused by the use of any batteries.