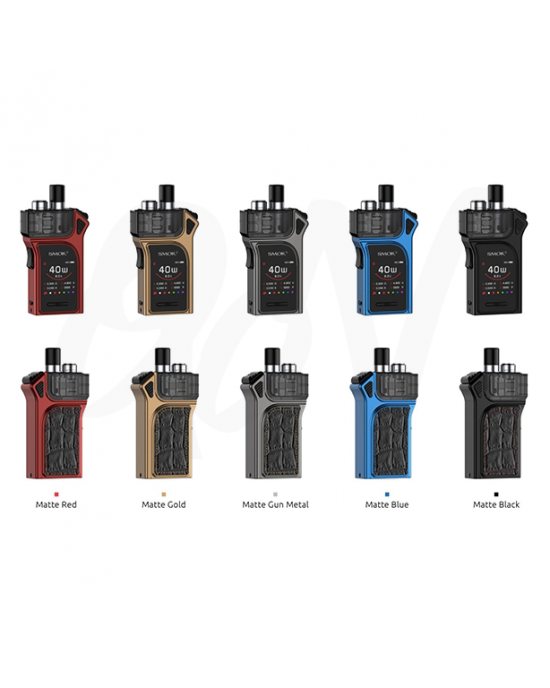 -33 %
Secured Shopping
Best security features

Viva wallet
Secure Card Payments
Smok Mag Pod kit 40w
Price in reward points: 140

SMOK
The magic combo of Mag and Pod Mod that brings you more of the experience that you crave. From it's elegant facade to it's classic MAG DNA, the MAG POD selects the best traits from the MAG series and refines it into a superb pod mod. It is equipped with a built-in 1300mAh battery and comes as standard with two RPM coils offering the best flavour and excellent vapour production. With the ingenious childproof top refill cap adopted in the top filling system, the MAG POD simplifies the filling process and ensures a safe, long-lasting all day vape.
Seize the Power
Paying tribute to the MAG series, the MAG pod absorbs the essence of the classic MAG series, making it recognisable at a glance. The low-profile colour scheme accentuates the power, while still remaining delicate for a touch of elegance.
Customise Your Power
Featuring a large 1300mAh battery with a 1-40W range, the MAG POD will keep you vaping all day long without any worries. Adjusting the wattage is simple with the +/- buttons and a 1W increment for a simple yet effective customisation.
Secure Lock Button
The MAG POD adopts a lock button to fix the pod in place for extra security. You can easily detatch the pod by pushing the lock button down.
Dual Airflow Channels
The MAG POD has an optimised airflow design. Two airflow channels are designed to help bring more air into the device and produce huge vapour.
Removable 510 Drip Tip
The drip tip is removeable and replaceable, and you can use any 510 drip tip that you prefer. In addition, a stainless steel atomiser ring is placed at the base of the drip tip which doubles as a decorative ring. The MAG POD uses a top-refill systerm with a childproof top cap to facilitate e-liquid refilling and prevent leakage.
Safety Features
Pod Detection
Puff Monitoring System
8 Second Cut Off
Short Circuit Protection
Over Heating Protection
Low-Battery Warning
Specs:
Size: 90.8mm x 46.5mm x 19.4mm
Weight: 102g (Including Pod)
Battery Capacity: 1300mAh
Output Wattage: 1W - 40W
Standy Current:Input Voltage: 3.3V - 4.2V
Output Voltage: 0.5V - 4.0V
Resistance Range: 0.3 Ohm - 2.5 Ohm
Charging Voltage: 5V +- 0.2V
Charging Current: 0.95A (Max)
Charger Output: 5V +- 0.2 V / 1.5A-2A
Package Contents:
1 x MAG POD Device
1 x MAG POD Empty RPM Pod (2ml)
1 x RPM Mesh 0.4 Ohm Coil
1 x RPM DC 0.8 Ohm MTL Coil When MAG Meets Pod
Warning
Battery Safety
Use special caution when working with all Li-ion cells (Batteries), they are very sensitive to charging characteristics and may explode or burn if mishandled. Make sure the you have knowledge of Li-Ion rechargeable batteries in charging, discharging and assembly before use. Always charge in/ on a fire-proof surface. Never leave batteries charging unattended or overnight. Do not charge on carpets, couches, near curtains or other flammable items. Please be sure to use the correct specification charger with the correct device/ battery. Failure to use the correct specification charger could result in damaging the battery and/or explosion or fire. Just because a battery can be screwed into a certain type of charger does NOT necessarily mean it is the correct charger for the device! Never continue to use an e-cigarette if you can feel the battery get hot. If your battery gets hot to the touch, or if it begins smelling: DO NOT USE IT ANYMORE. Let it cool down (1 hour) in a safe environment (outside preferably), and dispose of correctly, or make arrangements to return, if still under warranty. If your e-cigarette or device begins activating itself, immediately remove your atomiser and disconnect the battery. Do NOT trust the battery, nor the atomiser anymore from this point on. This means never leave either of the components connected in your pocket, in your nightstand, or out of visibility where you can not immediately separate the two components. QoV are not responsible for damage if there is any modification of the batteries/chargers in any form or shape (including pack making). We are not responsible for any damage caused by misuse or mishandling of Li-Ion batteries and chargers. We will not be held responsible or liable for any injury, damage, or defect, permanent or temporary that may be caused by the use of any batteries.