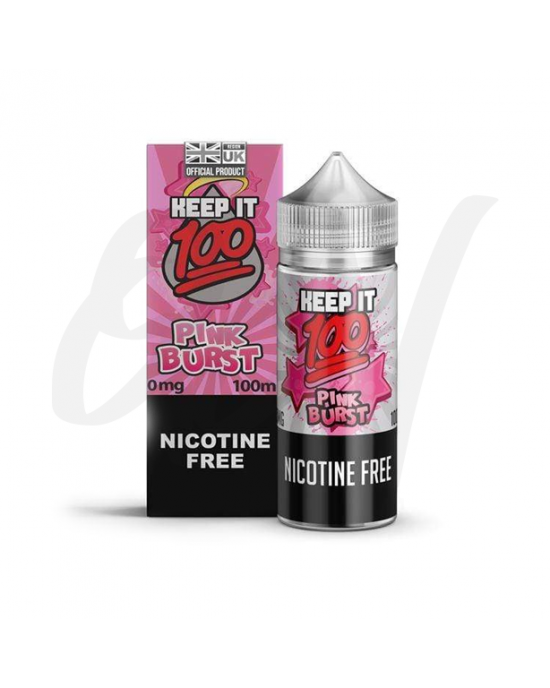 New
Secured Shopping
Best security features

Viva wallet
Secure Card Payments
Keep it 100- Pink Burst
Keep It 100
Keep It 100 is an American made e juice line manufactured by Liquid Labs. Known for their flagship flavour, Blue Slushie, Keep It 100 have released a line of fantastic flavours that keep you coming back for more.
Each flavour in this range comes in 100ml shortfill bottles, features 70% VG ratios, making them perfect for sub-ohm use and contain 0mg nicotine, meaning you must add nicotine shots in order to reach your desired nicotine strength.

Flavour: Pink Burst-A creamy and rich Taffy base, Pink Burst then infuses in a sweet, candied strawberry flavour, giving the taffy its pink look, for a sticky-sweet strawberry square candy treat
Brand: Keep It 100
Strength: 0mg (zero)
Bottle: LDPE
Bottle Size : 100ml
Origin: UK
Mix:70vg/30pg
INGREDIENTS: Vegetable Glycerin, pg, flavourings, nicotine


You must be eighteen (18) years of age, to purchase any products from Queen Of Vapes

WARNING: NICOTINE IS A POISON. NICOTINE IS HARMFUL. KEEP OUT OF REACH FROM CHILDREN AND LOCKED AWAY IN A SAFE PLACE. IF ANY NICOTINE PRODUCT IS CONSUMED, SEEK MEDICAL ASSISTANCE IMMEDIATELY.