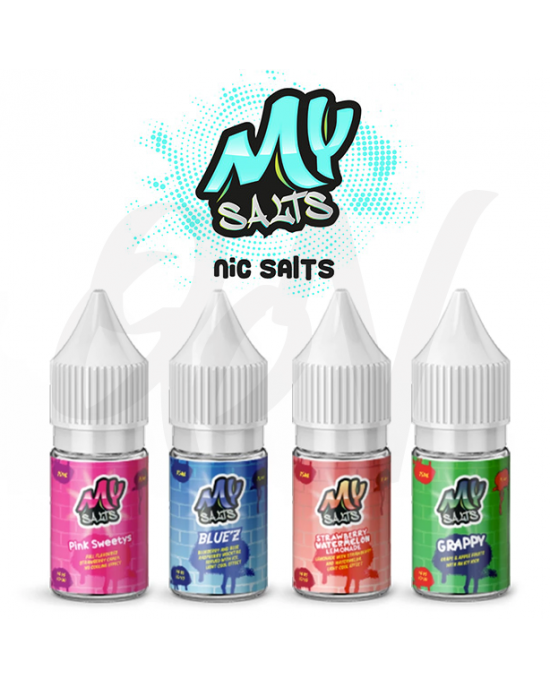 Secured Shopping
Best security features

Viva wallet
Secure Card Payments
My Salts eliquids
Price in reward points: 6
My Salt nic e-liquid features a 70% VG concentration, ideal for deep flavor with minimal cloud production when used in a pod device or starter kit.
Flavour Options:
PINK SWEETS-A full flavoured Strawberry Candy Vape reminiscent of those chewy little sweets. No Cooling effect.

BLUE'Z-Blueberry & Blue Raspberry Mocktail served over crushed Ice.

STRAWBERRY WATERMELON LEMONADE -Freshly squeezed Lemonade with a generous helping of Strawberry and Watermelon Fruits. Refreshing in all seasons.

GRAPPY - A mind bending mix of green apples and fleshy white grape that's full of monster flavor and a cooling …
Strength-10mg

BRAND: My Salt

Available in 10mL

A choice of Nicotine Content

70pg/30vg (for more info on the mix please see our VG vs PG information page.

TPD Compliant

You must be eighteen (18) years of age, to purchase any products from Queen Of Vapes

WARNING: NICOTINE IS A POISON. NICOTINE IS HARMFUL. KEEP OUT OF REACH FROM CHILDREN AND LOCKED AWAY IN A SAFE PLACE. IF ANY NICOTINE PRODUCT IS CONSUMED, SEEK MEDICAL ASSISTANCE IMMEDIATELY.