Innokin Cool Fire Pebble 50W Vape Mod Kit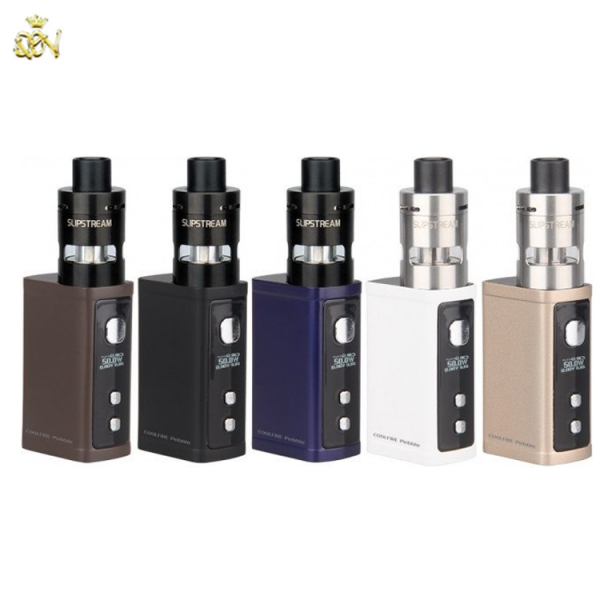 Innokin Pebble Starter Kit features a matchbox sized, 50 Watt mod, paired with a TPD compliant, 2ml Slipstream tank. To make life simple, the Pebble mod has a built-in 1300mAh battery, powering basic variable wattage controls. The Slipstream tank's protective shielding makes this sub-ohm set-up ideal as a 'take-anywhere' vape kit for a purse or pocket.
This is currently the smallest starter kit that Innokin produce. A slimmed-down feature set also makes this mid-power e cig kit one of the easiest to use. Just like bigger box mods, the Pebble still has room for a compact OLED display screen. Simple + and – buttons allow you to adjust your vaping power from a minimal 6 Watt setting, right up to a sizzling 50 Watts. Settings in the 20 to 35 Watt range are ideal for vaping with the kit's sub-ohm, Slipstream tank. The standard 510 connector on the Pebble mod makes it compatible with almost any atomizer having a 510 screw connector – even low wattage, mouth-to-lung atomizers with a cigarette style draw.
The Pebble starter kit's Slipstream tank has been designed to comply with the 2016, Tobacco Products Directive (TPD regulations). The tank has 'push-and-turn' access to the e liquid tank. This is easy for adults to use, but it makes it almost impossible for children to reach the e liquid. The Slipstream tank is built for clean, leak-free operation. Fully adjustable airflow helps you to find the sweet spot for each of your favourite e liquids. Two replaceable sub-ohm coils are provided with the Pebble starter kit. The pre-fitted, 0.8 Ohm coil is ideal for relaxed, contented vaping. The 0.5 Ohm coil shows-off the flavour and cloud potential of lower resistance atomizers.
The Innokin Pebble Starter Kit comes with its own USB cable for internal battery charging. As well as having a battery level indicator on the OLED screen, the Pebble's fire button lights up with a traffic-light indication of the battery level. When the fire button shows red, stop vaping and plug the Pebble into a USB power source.
The Pebble mod can be ordered in Coffee, Dark Blue, Black, White or Gold. The White and Gold mods come with a Stainless Steel Slipstream tank. The other mods are delivered with a Black tank.

Contents:
1 x Innokin Pebble 50 Watt Mod
1 x Innokin Slipstream 2ml Tank
1 x Slipstream 0.8 Ohm Atomizer Coil (Fitted)
1 x Slipstream 0.5 Ohm Atomizer Coil (Spare)
1 x Pack of Spare O Rings
1 x USB Battery Charging Cable
1 x Pebble User Manual
Innokin Pebble 50 Watt Mod Features:
Size: 55mm x 35mm x 22mm
Screw: Standard 510 threaded connector
Positive pin: Sprung, gold-plated
Style: Ultra-small, mid power box mod
Fire button: Push button with LED battery level light
Battery type: Internal, 1300mAh
Variable power: 6 to 50 Watts
Max current output: 15 Amps
Max voltage output: 7.5 Volts
Atomizer resistance range: 0.2 to 3.5 Ohms
Screen: Simple OLED display
Shows Coil resistance, wattage, voltage & battery level
Displays vape timer & puff counter
USB charge port on mod base
Comes with mini/standard USB charge cable
5 Volt, 1 Amp charge capability
Allows vaping during recharge
Three click on/off safety switching
Has 15 sec vape cut-off feature
Built-in low voltage, short circuit & overheating protection
Amazingly simple to use
Compact and fashionable
Available in Gold, Coffee, Dark Blue, Black & White.
Innokin Slipstream Tank Features:
E liquid capacity: 2ml
Tank glass: Protected Pyrex glass tube
Tank protection: Stainless steel shielding with windows
Connector: 510 screw
Fitted with wide bore drip-tip
Spare 510 stainless steel drip-tip included
Adjustable top airflow ring with 3 slots
Push-and-turn child-lock access for refilling & coil changes
Comes fitted with a 0.8 Ohm kanthal atomizer coil (20 to 35W)
Spare 0.5 Ohm stainless steel coil included (20 to 35W)
Spare tank seals included
Leak-free tank design
Easy viewing of remaining e liquid
Stubby, low profile tank
TPD compliant
A safer option for the family home
Ideal for discreet vaping

Warning
Battery Safety
Use special caution when working with all Li-ion cells (Batteries), they are very sensitive to charging characteristics and may explode or burn if mishandled.Make sure the you have knowledge of Li-Ion rechargeable batteries in charging, discharging and assembly before use.Always charge in/ on a fire-proof surface.Never leave batteries charging unattended or overnight.Do not charge on carpets, couches, near curtains or other flammable items.Please be sure to use the correct specification charger with the correct device/ battery. Failure to use the correct specification charger could result in damaging the battery and/or explosion or fire.Just because a battery can be screwed into a certain type of charger does NOT necessarily mean it is the correct charger for the device!Never continue to use an e-cigarette if you can feel the battery get hot. If your battery gets hot to the touch, or if it begins smelling: DO NOT USE IT ANYMORE. Let it cool down (1 hour) in a safe environment (outside preferably), and dispose of correctly, or make arrangements to return, if still under warranty.If your e-cigarette or device begins activating itself, immediately remove your atomiser and disconnect the battery. Do NOT trust the battery, nor the atomiser anymore from this point on. This means never leave either of the components connected in your pocket, in your nightstand, or out of visibility where you can not immediately separate the two components.Queen Of Vapes are not responsible for damage if there is any modification of the batteries/chargers in any form or shape (including pack making). We are not responsible for any damage caused by misuse or mishandling of Li-Ion batteries and chargers. We will not be held responsible or liable for any injury, damage, or defect, permanent or temporary that may be caused by the use of any batteries.