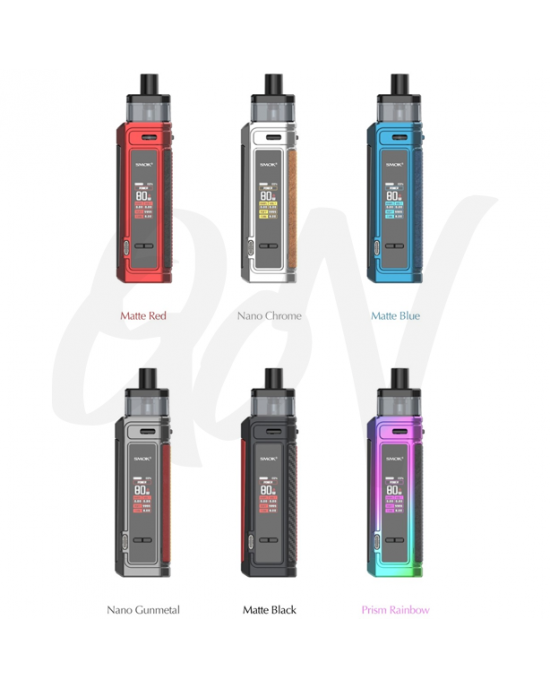 Out Of Stock
Secured Shopping
Best security features

Viva wallet
Secure Card Payments
Smok G-Priv 80w Pod Kit |2500mAh

SMOK
G-Priv Pod Kit is the newest addition to Smok's portfolio of high-end kits.This device Is a slighter smaller and more compact devicecompared to the G-Priv Pro pod kit as it uses an internal 2500mAh battery,however, they both share a number of high-quality innovative features such as aslide to open top filling system, which allows for easy filling and aleak-proof vaping experience. They also both include a large fire button,located at the side of the device for precise firing and more control on yourinhale.Like a few of Smok's latest releases, such as the Smok RPM kit,the G-Priv kit contains the IQ-SChip which allows for precision and super sensitive firing which goes down toas little at 0.001 seconds. Italso contains high tech features such as adjustable airflow, type c fastcharging and is compatible with the highly revered LP2 Mesh coils.
Thisdevice is a Sub-ohm DTL vaping, aimed at advancedvapers, and should be used with high VG shortfill e-liquids.
Info:Size: 34.1 x 27.1 x 111.5mm
Output Wattage: 5W-80W
Battery Capacity: 2500mAh
Sub-Ohm Vaping
Compatible with LP2 Coils Built-in Battery 6 flawless colours Slide-to-open Top Fill LP2 Coils Compatible Airflflow Adjustable Large Fire Key IQ-S Chip Type-C Fast Charging
What's in the box?
1 x G-Priv Pod Kit
1 x G-Priv Pod Empty LP2 Pod(2ml)
1 x LP2 Mesh 0.23ohm DL Coil
1 x LP2 Mesh 0.4ohm Coil
1 x Type-C Cable
1 x User Manual