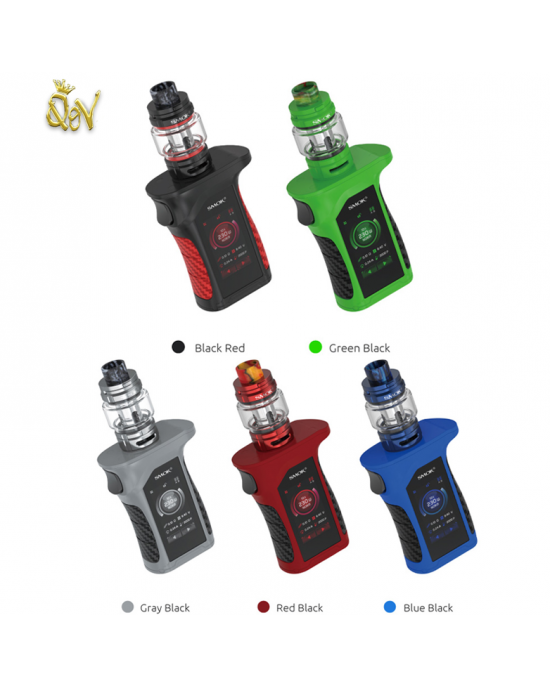 Out Of Stock
Secured Shopping
Best security features

Viva wallet
Secure Card Payments
Smok Mag P3 Kit
Price in reward points: 104

SMOK
Smok Mag P3 is powered by two 18650 batteries (Do not come in the pack). The gun style grips fits neatly into the hand and features a sensitive fire button with flash firing functionality (0.001s firing speed).
This is a striking, eye-catching device beautifully completed with a carbon fibre back-panel. With these looks comes some serious protection - the Mag P3 is dustproof, shockproof and waterproof, built to withstand water immersion of between 15 cm and 1 meter for up to 30 minutes.
The Smok Mag boasts a whole suite of features which enable you to customise your device and vape to perfection, which can be set using the 1.9inch responsive touch screen. In variable wattage mode you can choose between three vape styles, soft, medium and hard, while in temperature control mode you can select the type of coil, adjust pre-heat wattage and set TCR values.
You also have a number of security features available, with the ability to use a passcode, and swipe to unlock to protect against accidental activation in your pocket. Additional customisation options include puff counters, setting a maximum puff limit, adjusting the screen colour and more (see features below for a full list).
As you'd expect with an advanced device like this, the P3 comes with multiple protections including short circuit protection, over-heating protection, intelligent atomiser protection and more.
The Mag P3 comes with the Smok TFV8 Mini V2 tank included. With large wicking holes, high surface area and low resistance coils, the TFV8 Mini V2 is designed for powerful devices capable of putting out higher power levels and for e-liquids with a high VG ratio. This makes it great for vapers who enjoy direct-to-lung vaping and lots of clouds!
The Mag P3 is compatible with TFV8 Mini V2 coils.
WHO'S THE SMOK MAG P3 FOR?
The Smok Mag is ideal for vapers who are looking for an advanced, customisable device perfect for direct-to-lung vaping and capable of producing huge clouds of vapour.
COMPATIBLE COILS
The Smok Mag P3 works with Mini V2 coils.
FEATURES
Waterproof, dustproof, shockproof
Huge power range - 1-230 watts
Dual battery indicator
Variable wattage
Temperature control
Temperature Coefficient Resistence
Responsive touch screen
Vaping effects: soft/norm/hard
Puff settings
System settings
Set screen colour
Set screen timeout
Updatable IQM chip
Passcode (optional) and passcode reset
Flash fire speed up to 0.001s
Slide to unlock (optional)
Stealth mode (turns off display)
Trigger style fire button
Carbon fibre panel
Puff counter
Slide to unlock
Passcode
Delicate fire button
PROTECTIONS
Intelligent atomiser protection
Puff monitoring system
10 second cut off
Short circuit protection
Over heating protection
Low battery warning
WATTAGE GUIDELINES
A1 0.17ohm coil: 90-140 Watts
A2 0.2ohm Double Coil: 70-120 Watts
A3 0.15ohm Triple Coil: 80-130 Watts
SPECS
MAG P3 MOD
Height: 91.6mm
Width: 72.3mm
Depth: 36mm
Weight: 261.5g
Standby current <400uA
Power range: 1-230 watts in variable wattage/10-230 watts in temperature control
Input voltage: 6.4-8.4v
Charging voltage: 5w
Charging current: 1.8A
Firing speed: 0.001 seconds
Resistance range: 0.1-2.5 ohms (vw mode), 0.05-2 ohms (TC mode)
Temperature range: 200-600F, 100-315C
TFV8 MINI V2
The specs below are for the EU version.
Capacity: 2ml

Height: 54mm
Diameter: 25.4mm
Weight: 65g
Coil material: Stainless steel
Warning
Battery Safety
Use special caution when working with all Li-ion cells (Batteries), they are very sensitive to charging characteristics and may explode or burn if mishandled. Make sure the you have knowledge of Li-Ion rechargeable batteries in charging, discharging and assembly before use. Always charge in/ on a fire-proof surface. Never leave batteries charging unattended or overnight. Do not charge on carpets, couches, near curtains or other flammable items. Please be sure to use the correct specification charger with the correct device/ battery. Failure to use the correct specification charger could result in damaging the battery and/or explosion or fire. Just because a battery can be screwed into a certain type of charger does NOT necessarily mean it is the correct charger for the device! Never continue to use an e-cigarette if you can feel the battery get hot. If your battery gets hot to the touch, or if it begins smelling: DO NOT USE IT ANYMORE. Let it cool down (1 hour) in a safe environment (outside preferably), and dispose of correctly, or make arrangements to return, if still under warranty. If your e-cigarette or device begins activating itself, immediately remove your atomiser and disconnect the battery. Do NOT trust the battery, nor the atomiser anymore from this point on. This means never leave either of the components connected in your pocket, in your nightstand, or out of visibility where you can not immediately separate the two components. QoV are not responsible for damage if there is any modification of the batteries/chargers in any form or shape (including pack making). We are not responsible for any damage caused by misuse or mishandling of Li-Ion batteries and chargers. We will not be held responsible or liable for any injury, damage, or defect, permanent or temporary that may be caused by the use of any batteries.