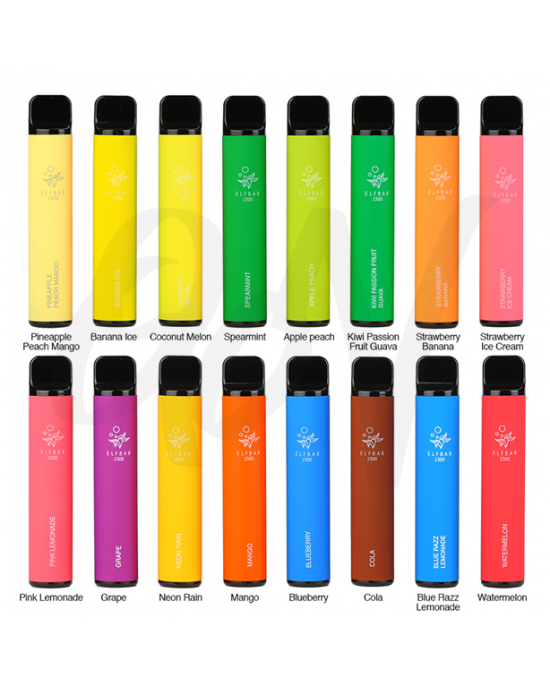 Multi Buy
Secured Shopping
Best security features

Viva wallet
Secure Card Payments
Elf Bar 600 Puffs Disposable Pod Device - 20mg
Elf Bar Disposable Pod is designed with a pre-filled Nic Salt E-liquid and comes packaged as a disposable unit.

The ELF Bar accommodates 2ml of E-Liquid with the nicotine level of 20mg (2%)
Each ELF Bar Disposable features one (1) device per package and has a smooth mouth to lung draw.
With all of these features the ELF Bar not only has a higher capacity in battery and E-liquid than its competitors but features amazing flavours.
Unlike most vape kits there are no confusing settings to adjust in order to operate the device, making this an ideal choice for the novice vaper.
Elf Bar Features:
MTL Disposable Pod Kit
550mAh Built-In Battery
Manual draw activation
LED Battery Life Indicator
2ml Pod Capacity
Organic Cotton Wick
20mg nic salt e-liquid
600 puffs
Elf Bar Flavours:
Strawberry Ice Cream – Strawberry & Vanilla Ice Cream
Mango – Ripe & Juicy Mango.
Grape – Juicy Black Grape.
Watermelon – Sweet & Juicy Melon.
Banana Ice – Smooth Banana with an ice finish
Pink Lemonade – Sweet refreshing Pink Lemonade.
Kiwi Passion Fruit Guava – Kiwi with Passionfruit & Guava.
Cotton Candy Ice – Candyfloss with an ice finish.
Strawberry Ice – Ripe Red Strawberry with an ice finish.
Blue Razz Lemonade – Blue Raspberry & Lemonade.
Blueberry – Sweet & Juicy Blueberry.
Cream Tobacco – Sweet Cream & Tobacco.
Apple Peach – Sweet Peach & Apple
Cola – Cool Cola.
Mango Milk – Iced Mango-Flavoured Milkshake
Lychee Ice – Sweet Lychee with an ice finish.

Strawberry Banana – Sweet Strawberry & Banana