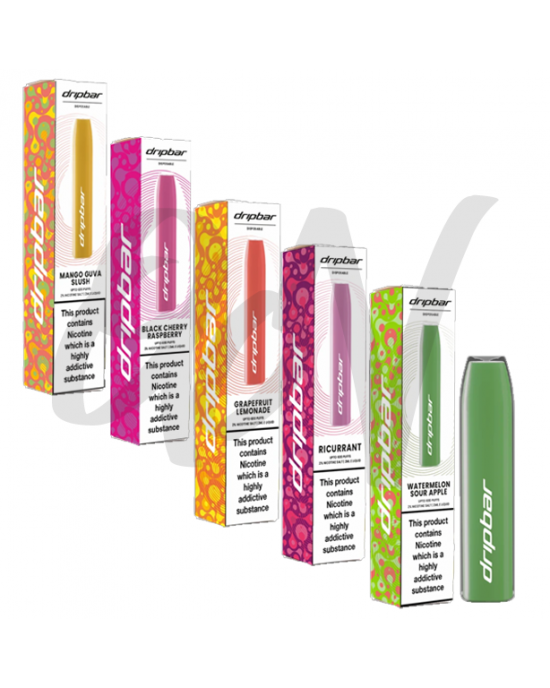 Multi Buy -9 %
Secured Shopping
Best security features

Viva wallet
Secure Card Payments
Drip Bar Disposable Vape by Slushie

Slushie
Drip Bar Disposable Vape is a compact and small device. No charging, not refilling, It is perfect for on-the-go use. You can toss it when it is finished. Each pod vape features an average of 600 puffs and 20% of nicotine. Available in many delicious flavors. A State of the art disposable device with powerful performance. this device is for superior to previous disposable devices.
Flavour:
Black Cherry Raspberry - A sweet and tangy blend of black cherries and raspberries.
Black Cherry Strawberry - A delightful fruit infusion of 2 Summer favourites.
Grapefruit Lemonade - Sweet, tart and just a little bitter all at the same time - don't miss this blast of citrus flavour!
Lychee - Simply exotic lychee fruit.
Mango Guava Slush - A totally tropical combination.
Mango Ice - Juicy, ripe mangos with a cooling blast.
Neon Lime Ice - It doesn't get fresher than this! Mouth-watering lime with a cooling touch.
Passionfruit - The exotic taste of perfectly ripe and zingy passion fruit.
Raspberry Bubblegum - A deliciously sweet flavour that's so delicious you can almost chew it!
Ricurrant - Fresh and succulent blackcurrant juice - an absolute classic.
Watermelon Sour Apple - The juiciest flavour we've ever tasted - crunchy, tart apple and super refreshing watermelon.
White Grape - Freshly-squeezed white grapes with just the perfect amount of sweetness.
Spec:
Draw-activated
600 puffs approx.
20mg strength
2ml capacity
500mAh battery