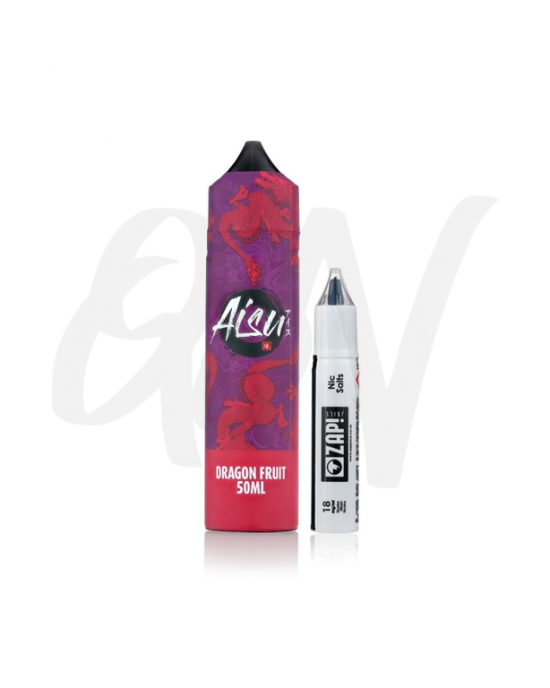 Multi Buy -20 % Out Of Stock
Secured Shopping
Best security features

Viva wallet
Secure Card Payments
Aisu Dragon Fruit

Aisu
AISU E-Liquid Shortfills are a new line of amazing blends created by ZAP! Juice. These ejuices are inspired by Kakigori a famous Japanese dessert, they feature a blend of fruit purees and crushed ice, a traditional theme that has been replicated for these unique and distinctive blends like Aloe Vera, Cucumber, Dragon Fruit and so many other great flavours.
This fantastic brand features a concentration ratio of 70% VG ( Vegetable Glycerine ) and 30% Mixed PG ( Propylene Glycol ) and high-quality food flavourings. A perfect blend for sub-ohm vaping!
Flavour: Dragon Fruit - Dragon Fruit Aisu vape eliquid features exotic notes of dragon fruit that dominates the entire vape from start to finish. Furthermore, you get light sour undertones that intermix with ripe fruit tones creating a delicious taste. Finally, on the exhale you are welcomed by a cool ice menthol topping up the freshness of a well balanced distinctive vape, leaving you with a sugary aftertaste.
Includes: 1 free nic salt shot 18mg
Brand: ZAP! Juice
Strength: 0mg (zero)
Bottle: LDPE
Bottle Size : 50ml
Liquid Contents: 50ml
Origin: UK
Mix:70vg/30pg
INGREDIENTS: Vegetable Glycerin, pg, flavourings, nicotine


You must be eighteen (18) years of age, to purchase any products from Queen Of Vapes

WARNING: NICOTINE IS A POISON. NICOTINE IS HARMFUL. KEEP OUT OF REACH FROM CHILDREN AND LOCKED AWAY IN A SAFE PLACE. IF ANY NICOTINE PRODUCT IS CONSUMED, SEEK MEDICAL ASSISTANCE IMMEDIATELY.