Innokin EZ TC iClear 20D kit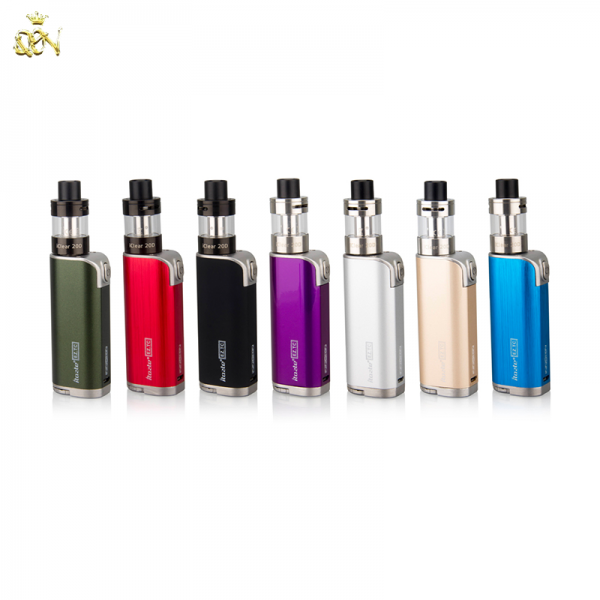 Innokin EZ.TC ultra compact vaporizer is small, sleek and smart. Turn the dial to vape from four optimized temperatures and enjoy perfect full clouds of flavors with trusted Dry Hit Prevention.
The advanced temperature control EZTC technology is paired with the new Innokin iClear20D Tank and Stainless Steel coils. The 20D Tank is crafted with high quality stainless steel and Pyrex Glass and has an easy to use top fill and leak resistant cover design.
For optimal temperature control and harm reduction, the iClear20D Coils are built with Stainless Steel wire and organic cotton. They also use nonstandard threading for more frequent calibration and an overall better vaping experience. If the 20D coil becomes dry, then the device will decrease the output to limit & prevent burning while reducing exposure to harmful byproducts.
The Innokin EZ.TC is available in 7 beautiful and durable finishes (Green, silver, purple, red, black, gold, blue) with an integrated 1500mAh battery (charged via microUSB) and has over-discharge, device overheat, short circuit, low resistance, and firing cutoff protections.
Technical detail for iTaste EZ.TC Vaping System:
1500mAh Battery
Dimensions: 75mm tall, 32 deep, and 22mm wide.
Dry Hit Detection & Prevention
Micro USB Charging: 5A/1V
Vaping While Charging
Temperature Control optimized for excellent flavor and vapor production
Single fire button and four-setting bidirectional dial for temperature adjustment
1× Innokin iTaste EZ.TC Mod
1× Innokin iClear20D Tank with 0.5 Ohm Coil inside
1× Micro USB Charger
1× 0.8 Ohm Coil
1× Set Spare O-Rings
1× User Manual
Important: Only for use with SS316L EZ.TC Atomizer & Coils.
Warning
Battery Safety
Use special caution when working with all Li-ion cells (Batteries), they are very sensitive to charging characteristics and may explode or burn if mishandled.Make sure the you have knowledge of Li-Ion rechargeable batteries in charging, discharging and assembly before use.Always charge in/ on a fire-proof surface.Never leave batteries charging unattended or overnight.Do not charge on carpets, couches, near curtains or other flammable items.Please be sure to use the correct specification charger with the correct device/ battery. Failure to use the correct specification charger could result in damaging the battery and/or explosion or fire.Just because a battery can be screwed into a certain type of charger does NOT necessarily mean it is the correct charger for the device!Never continue to use an e-cigarette if you can feel the battery get hot. If your battery gets hot to the touch, or if it begins smelling: DO NOT USE IT ANYMORE. Let it cool down (1 hour) in a safe environment (outside preferably), and dispose of correctly, or make arrangements to return, if still under warranty.If your e-cigarette or device begins activating itself, immediately remove your atomiser and disconnect the battery. Do NOT trust the battery, nor the atomiser anymore from this point on. This means never leave either of the components connected in your pocket, in your nightstand, or out of visibility where you can not immediately separate the two components.Queen Of Vapes are not responsible for damage if there is any modification of the batteries/chargers in any form or shape (including pack making). We are not responsible for any damage caused by misuse or mishandling of Li-Ion batteries and chargers. We will not be held responsible or liable for any injury, damage, or defect, permanent or temporary that may be caused by the use of any batteries.