Geek Vape Aegis Box Mod inc 26650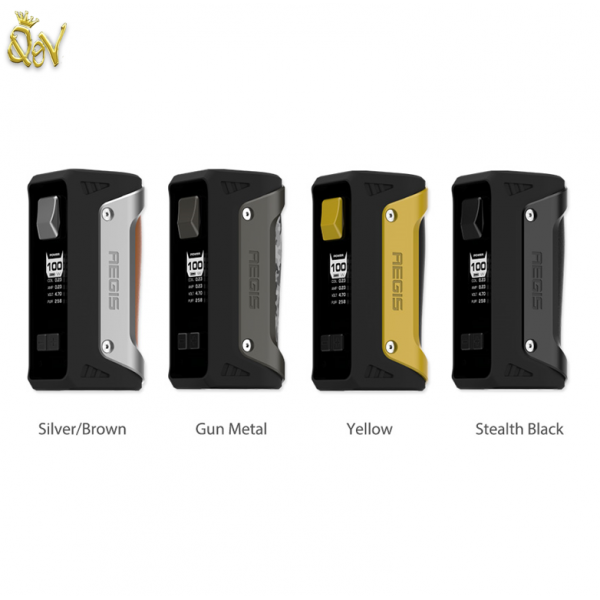 Geek Vape Aegis Box Mod, Designed by Justin, Geekvape GM, alone with the chief designer of Heatvape Invader mini, is a legendary TC Box Mod that can reach up to a maximum output power of 100W with single 18650 or 26650 battery.
By adopting the advanced LSR Injection Moulding technology, the Aegis is designed to be waterproof, shockproof and dustproof. Besides, the mod uses one of the most advanced chip featuring the real rated power and instantaneous firing.(0.015 seconds)Get one and you won't be disappointed.

Parameters:
Maximum power output: 100W
Output mod: adjustable
Material: Aluminum+zinc alloy+silicone
Dimension: 37.8* 46.8* 88mm
Battery: 26650 (battery included)
Battery low voltage warning: 3.3V±0.1V
PCBA temperature safety shutoff: 75?
Maximum firing duration: 10 seconds
Maximum voltage duration: 9V±0.1V
Operation temperature: -40?~+80?

Features:
-Supports both 18650 and 26650 battery
-One of the most robust vape mod (MIL STD 810G-516.6 military level shockproof)
-IP67 waterproof, friendly for beach, fishing, swimming, boating, kayaking, and water park activities
-Dustproof (IP67), able to withstand dirty environmentand can be cleaned easily
Package includes:
1x Aegis TC Box Mod (no cell)
1x Instruction Manual
1x 18650 Battery Cap