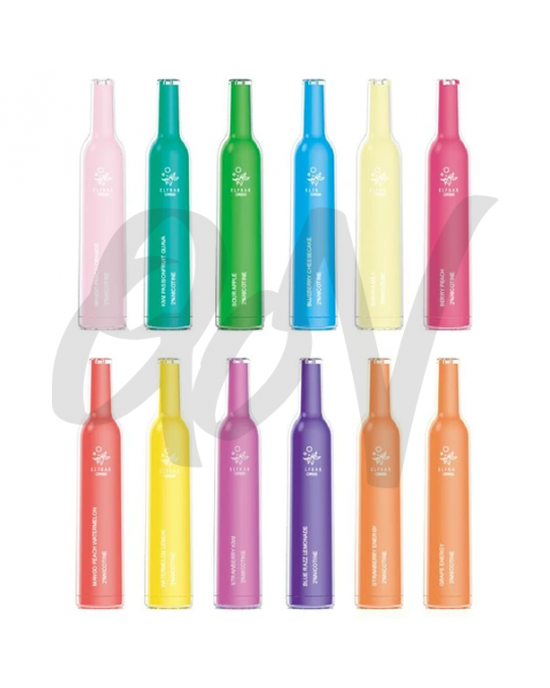 New Multi Buy
Secured Shopping
Best security features

Viva wallet
Secure Card Payments
Elf Bar CR500 Disposable Vape Pod - 20mg
Elf Bar CR500 Disposable Vape Pod is the latest release from the flavour boffins at Elf! So what is really different about this we hear you ask. These are a lighter and more compact version of the popular Elf Bar 600 and come in a different set of flavours to satisfy even more flavour chasers.
This disposable vape pod comes in 12 exciting flavours. These tiny bottles are pre-filled with 2mls of quality nicotine salt and are perfect for those who wish to stop smoking or those who have been vaping for years. Albeit others have tried to release disposables but Elf has smashed it again.
Elf Bar Flavours:
Kiwi Passionfruit : Sweet combination of tropical kiwi and tangy passion fruit
Blue Razz Lemonade: The most amazing blue raspberry flavour! completed with a dash of ice-cold lemonade.
Watermelon Lemon: A sweet, crisp mix of watermelon and lemon for a refreshing summer blend
Mango Peach Watermelon: A complex medley of Fruit
Berry Peach: Mixture of fresh berries with peach base that makes your taste buds sweet.
Blueberry Cheesecake: A sweet and creamy blueberry cheesecake, with a crisp buttery base.
Banana Milk: A gorgeous cool and refreshing creamy milk with a large splash of juicy smooth and flavourful freshly picked bananas
Mango Peach Orange: A perfect fruit cup inspired blend of peaches, oranges, and mango
Sour Apple: An authentic medley of sweet and sour apples.
Strawberry Energy: A Strawberry Energy drink
Strawberry Kiwi: A mixture of fresh picked straberries and sliced Kiwi
Grape Energy: A grape Energy Drink
Features:
Approximately 500 puffs
2ml pre-filled nicotine salt
400mAh internal battery
20mg nicotine salt strength