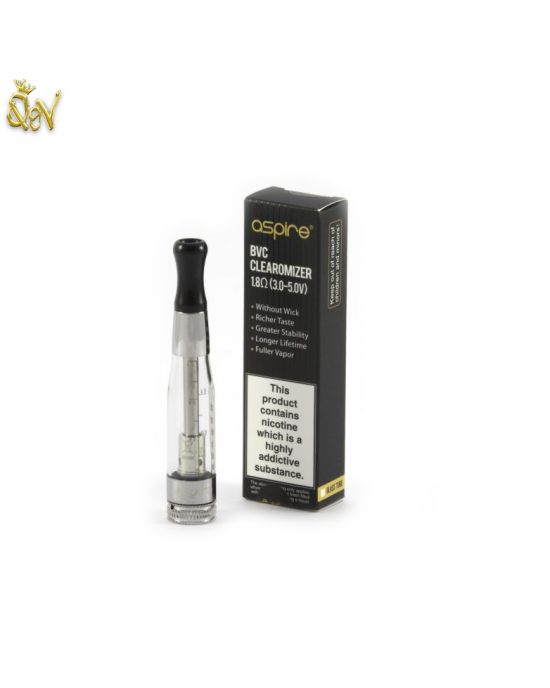 Secured Shopping
Best security features

Viva wallet
Secure Card Payments
Aspire bvc CE5 Clearomizer
Price in reward points: 8

Aspire
Aspire CE5 Clearomizer is a basic tank design made to high standards for mouth to lung vapers. It uses a straightforward push pull drip tip arrangement, is bottom filled and bottom coiled. Simply unscrew the base and pour your liquid into the tank taking care not to fill into the centre chimney. The Aspire CE5 Clearomizer uses the tried and trusted Aspire ET BVC coil system. This allows for better airflow over the coil for better flavour. This tank is perfect for 'Twist' Style variable voltage batteries due to it's inherent coil resistance.
As the CE5 is made from a polycarbonate tank construction, avoid using citrus and cinnamon flavoured liquids as well as aniseed in this tank.
You can rinse out the tank section using warm water and by giving it a good shake to remove old liquid. Avoid using soap due to it being an unwanted addition to your vapour. We recommend changing the coil every two to three weeks for tobacco and menthol flavours. Change your coil every week or at least fortnightly for sweeter flavours. This is due to the fact that coils are consumable products that suffer from wear and tear. When fitting new coils be sure to allow the tank to stand filled with the new coil for 5 minutes prior to first use. This allows the cotton to soak up the liquid and helps protect the coil from accidental burning.
1 x 1.8 ohm BVC coil pre installed due to its improved airflow.
Universal 510 drip tip made from plastic due to its property of absorption of body heat.